Sheehey ejected after late-game scrum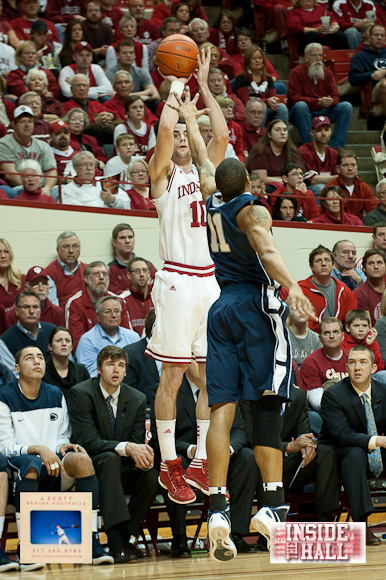 Christian Watford set his feet in nearly the same spot where he hit a game-winning 3 against Kentucky, and prepared to fire.
Only this time the Hoosiers weren't trailing by two in the final seconds. Indiana had a 17-point lead against Penn State with just over five seconds remaining. The Hoosiers needed to take a shot or accept a turnover for a shot-clock violation.
Watford rose up and was fouled hard by Penn State's Matt Glover, starting a small scrum near the Indiana bench. Will Sheehey, who wasn't even in the game at the time of the foul, appeared to be jawing with a Penn State player, and had to be restrained by Calbert Cheaney, the Hoosiers' Director of Basketball Operations.
Sheehey was given a technical foul for his involvement and was ejected from the game because he was part of a double technical assessed earlier in the game.
"You hate to end the game like that," said Penn State coach Patrick Chambers. "Both teams competed, both played hard and you want to leave it on the floor, but there's no need for that. And I've talked to my team about that. We have a great reputation of playing hard and competing, but I don't want to be a cheap-shot artist or any team that's going to start fights. That's not who we're gonna be."
Even though Sheehey was ejected, Indiana coach Tom Crean said he doesn't expect Sheehey to be suspended for Thursday night's game at Wisconsin.
"To my knowledge, nothing different with Will's status," Crean said. "There were no punches thrown or anything like that, it wasn't considered a fight. It was more verbal than anything else. We've already talked about that internally. It"s just a maturity thing."
OLADIPO'S D SLOWS FRAZIER
Penn State guard Tim Frazier got his points Sunday afternoon against the Hoosiers — he scored 21 — but he had to work extremely hard to get any room in the second half. Victor Oladipo and Sheehey each guarded Frazier for long stretches, and were responsible for holding him to 7-of-18 shooting.
"This became about 'we cannot let Tim Frazier control this game,'" Crean said. "He is one of the most underrated guards in America."
The Hoosiers picked Frazier up all over the court and did everything they could to keep him from getting the ball back once he gave it up.
"Coach Crean's always got something new for me every time we play we these guys," Frazier said. "He definitely tried to wear me down."
Oladipo was responsible for guarding a similar player to Frazier in Nebraska guard Bo Spencer last Wednesday night. Crean said Oladipo learned from some of the mistakes he made against Spencer to better defend Frazier.
"Where we got hurt a couple times there is he helped off [Spencer]," Crean said. " The thing he's got to continue to learn is great defenders can do different things at the time of need, and great defenders can do the hard things all the time. He had great resolve, as did Will, in trying to make it hard for Tim Frazier."
REACTION TO PATERNO'S PASSING
Legendary Penn State football coach Joe Paterno passed away before the game at the age of 85. Reports surfaced about his declining health late Saturday night.
Paterno, who served as the Nittany Lions head coach for 46 years, was fired in November after a sex abuse scandal involving former assistant coach Jerry Sandusky surfaced.
"He treated everybody with respect," Crean said. "For him and his family to go through everything they have gone through and yet for him to love a school so much … that's why you always live your life with integrity and respect. Obviously, he did.
"I think the players that played for him and the coaches that coached with him and the people that worked with him and the fans that followed him — they'll be so much better off."
Filed to: Joe Paterno, Tim Frazier, Victor Oladipo, Will Sheehey