Second-half surge helps Hoosiers stop losing streak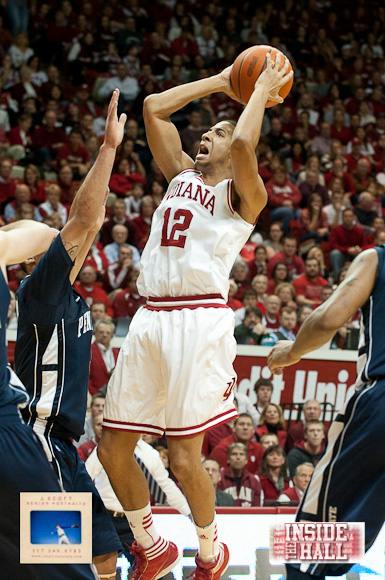 For 20 minutes on Sunday afternoon, Penn State played like a gritty team hungry for its first Big Ten road win.
The Nittany Lions went to the locker room leading 29-27 after limiting Indiana to just 9-of-22 from the field. Besides Cody Zeller, no other Hoosier scored more than one field goal before halftime.
But it didn't take Indiana long to capture the momentum and control in the second half.
After Zeller tipped in a Verdell Jones miss to tie the game with 19:51 remaining, Jordan Hulls stole the ball from Jon Graham and found Jones for a layup to give the Hoosiers a 31-29 lead.
Penn State coach Pat Chambers quickly called for a timeout.
"I think the first two possessions kind of set the pace for us," Zeller said. "We're at our best when we're out and running. I thought we had to match their intensity, they make a lot of hustle plays. I think in the second half we just turned it up defensively and it kind of led into our offense."
Hulls, who finished with 14 points, four rebounds, three assists, three steals and no turnovers, said defense keyed Indiana's success in the second half.
"It just starts with our defense," he said. "When our offense isn't going as good, we just have to rely on our defense to create offense off the bat. It definitely helped being at home was really good for us as well. The fans were great. But we've just got to have that mentality the whole game."
ZELLER EFFICIENT ONCE AGAIN
With Penn State conceding a huge size disadvantage to Zeller in the paint, the Nittany Lions tried to push the IU freshman out of the paint for much of the afternoon.
But Zeller made the most of his limited opportunities by turning in another efficient offensive performance.
He finished with 18 points on 7-of-8 shooting from the field and made all four of his free throw attempts.
"He is very talented and very gifted," Penn State coach Pat Chambers said. "He plays hard. He plays physical. He makes difficult shots. He is going to be very tough to deal with in the next however many years he is going to be here."
Zeller said he wasn't surprised at the physical approach Penn State took in an attempt to limited his opportunities.
"The Big Ten's a physical league," he said. "I think that's just how they play. It's not anything where they're game planning for me. It's just how they play."
ELSTON A FACTOR OFF THE BENCH
It's been a while since Tom Crean has referred to Derek Elston as Indiana's "seventh starter," but the junior forward played a pivotal role in Sunday's win.
Playing without a mask for the first time since returning on Dec. 28 from a nose fracture, Elston chipped in four points and six rebounds in 11 minutes.
Five of his six rebounds came in the second half.
"Derek, he played huge for us with rebounding," Hulls said.
OTHER NOTES
2013 verbal commitments Collin Hartman and Devin Davis Jr. were both in attendance behind the Indiana bench. … Sunday's win gave the Hoosiers their first season sweep of Penn State in the Crean era. … Indiana outscored Penn State 30-16 in the paint. … Jones passed Tom Bolyard and moved into 25th place on IU's all-time scoring list with his four points. The senior guard had three assists and no turnovers in 31 minutes. … Indiana held Penn State without a field goal for more than eight minutes in the second half (from the 17:01 mark to the 9:01 mark).
Filed to: Cody Zeller, Derek Elston, Jordan Hulls