Hoosiers look for better defense in return to Nebraska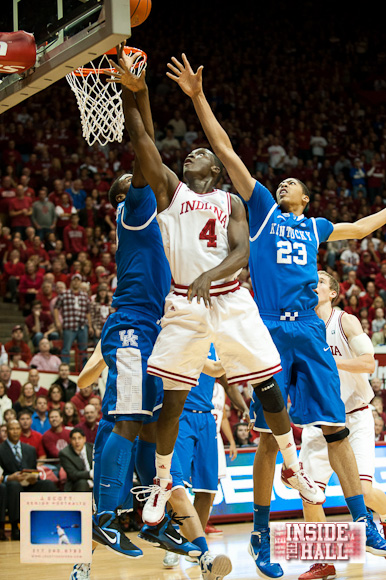 The Hoosiers faced very little adversity in the first 16 games this season.
They cruised to a 15-1 record beating then-No. 1 Kentucky and then-No. 2 Ohio State, losing only a road game against a hot Michigan State team.
They were the surprise team that was taking the nation by storm. They soared into the top 10, had every major publication talking about Cody Zeller and every Indiana fan screaming the words 'We're Back!' to anyone that would listen.
But in the matter of two games in only one week, some of that has changed. The Hoosiers lost back-to-back games to Minnesota and Ohio State, and now have their first losing streak of the season as they prepare to play at Nebraska Wednesday night.
The shots haven't been falling for No. 12 Indiana (15-3, 3-3) like they were earlier in the season, but the Hoosiers' biggest struggles have come on the defensive end. They have allowed at least 77 points in each of their last three games.
"I don't think it's anything major," Zeller said. "I think it's kind of getting back to where we were at in the beginning of the season, getting back to the fundamentals, getting into people – getting back to what we're really about."
Perhaps the solution for a struggling Indiana defense is a Nebraska team that doesn't score the ball well. The Cornhuskers (9-8, 1-5) average only 61.1 points per game, and they've scored more than 55 points only once in six conference games.
Nebraska has been better of late with the return of Jorge Brian Diaz and Dylan Talley from injury. Diaz and Talley each missed five games, including the first three games of the Big Ten season. Since their return, the Cornhuskers have gone just 1-2, but their two losses were by only five points each in tough road environments at Illinois and at Wisconsin. Nebraska opened the conference season with a 24-point home loss to Wisconsin without Diaz and Talley.
Diaz's return has changed the Cornhuskers back into a post-oriented team. The 6-11, 245-pound Diaz is averaging 9.8 points and 4.7 rebounds per game this season, but he hasn't scored as well since returning from injury.
"He catches the ball, usually with at least one foot in the paint," said Indiana coach Tom Crean. "He's not scoring a lot of points yet, but there's a lot of touches. You've got to do a great job in trying to eliminate those touches in the post."
The method Zeller and the Hoosiers use to stop those touches might depend on how the game is being called. Zeller has gotten in foul trouble twice already this season when trying to keep Ohio State's Jared Sullinger from getting the ball.
"When he's allowed to play, he's pretty good," Crean said of Zeller. "What I hate to see with somebody like him is that the game is called real nitpicky. He's doing a good job with his positioning, with getting up, he's getting his hands up. He's doing a very good job adjusting to (Big Ten play)."
As important as Diaz is to Nebraska's success, the Cornhuskers' most dangerous player is guard Bo Spencer. He's averaging 14.8 points per game and has been in double-figures in each of the last five conference games.
"Spencer is like [Tim] Frazier for Penn State," Crean said. "He can create tremendous havoc in the break by getting to the basket, he's a very good shooter."
The comparison between Spencer and Frazier may be an easy one to make, but it's hard to compare Nebraska to any other team in the conference. In many ways, the Cornhuskers still play like a Big 12 team.
But Indiana guard Victor Oladipo said that even though the Hoosiers haven't visited Nebraska since 1942, it feels like just another conference game.
"It feels like a regular old game," Oladipo said. "They're in the Big Ten. So we have to go in there with the same edge, and that's what we're going to continue to do."
Filed to: Cody Zeller, Nebraska Cornhuskers, Tom Crean, Victor Oladipo