Zeller one of 25 finalists for Wooden Award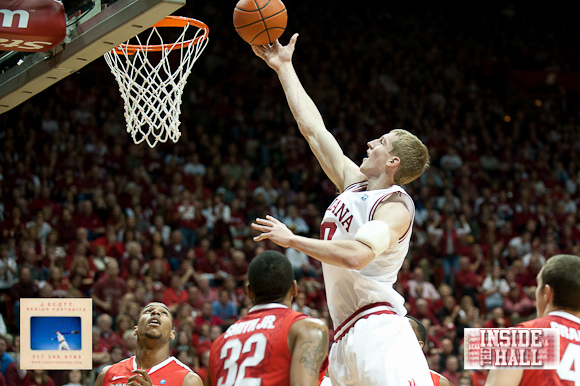 Indiana freshman Cody Zeller is one of 25 finalists for the John R. Wooden Award, ESPN.com announced on Tuesday afternoon.
The 6-foot-11 big man is one of three freshman on the list, joining Kentucky's Anthony Davis and Michael Kidd-Gilchrist.
Through 18 games, Zeller is averaging 14.8 points, 6.4 rebounds and 1.4 blocks per game.
Current Indiana Director of Basketball Operations Calbert Cheaney was the last Hoosier to win the Wooden Award in 1993. Former guard A.J. Guyton was the last finalist from Indiana back in the 1999-2000 season.
The complete list of finalists follows after the jump:
Harrison Barnes, 6-foot-8, So., F, North Carolina
Will Barton, 6-6, So., F, Memphis
William Buford, 6-6, Sr., G, Ohio State
Anthony Davis, 6-10, Fr., C, Kentucky
Marcus Denmon, 6-3, Sr., G, Missouri
Draymond Green, 6-7, Sr., F, Michigan State
John Henson, 6-11, Jr., C, North Carolina
John Jenkins, 6-4, Jr., G, Vanderbilt
Orlando Johnson, 6-5, Sr., G, UCSB
Darius Johnson-Odom, 6-2, Sr., G, Marquette
Kevin Jones, 6-8, Sr., F, West Virginia
Perry Jones III, 6-11, So., C, Baylor
Kris Joseph, 6-7, Sr., F, Syracuse
Michael Kidd-Gilchrist, 6-7, Fr., F, Kentucky
Jeremy Lamb, 6-5, So., G, Connecticut
Damian Lillard, 6-3, Jr., G, Weber State
Doug McDermott, 6-7, So., F, Creighton
Scott Machado, 6-1, Sr., G, Iona
Kendall Marshall, 6-4, So., G, North Carolina
Mike Moser, 6-8, So., F, UNLV
Arnett Moultrie, 6-11, Jr., C, Mississippi State
Thomas Robinson, 6-9, Jr., F, Kansas
Mike Scott, 6-8, Sr., F, Virginia
Jared Sullinger, 6-9, So., F, Ohio State
Cody Zeller, 6-11, Fr., C, Indiana
Filed to: Cody Zeller, Wooden Award