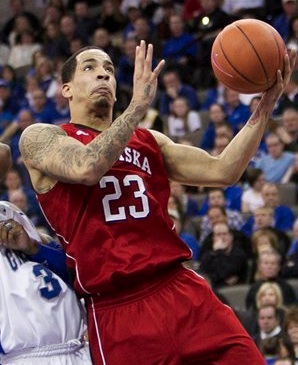 The No. 11 Hoosiers, coming off consecutive losses to Minnesota and Ohio State, travel to Lincoln on Wednesday for a meeting with the Nebraska Cornhuskers. It will be the first meeting between the two schools since December 30, 1982 in Indianapolis. 
The game will be shown on the Big Ten Network (Eric Collins and Eddie Johnson) and broadcast on the IU radio network:
Nearly every team in college basketball faces adversity at some point in the season. Up until last week, Indiana had essentially aced the first 16 games, save for a disappointing performance down the stretch in East Lansing. That's not to say this group hadn't struggled in stretches in those first 16 — they did — but ultimately they were able to overcome those struggles and win close games.
The past two games, however, were a different story. Which brings us to a question that will soon be answered: How will this team respond to its first losing streak of the season? In previous seasons, the Hoosiers have let losing streaks snowball in conference play.
This group, however, has proven itself capable of beating the nation's best. If Indiana hopes to finish in the top four of the league, tomorrow's matchup is a game it needs to win. But more importantly, this group must stop the negative momentum that comes with a losing streak and come out as the aggressor on the road against an opponent in the bottom tier of the conference.
A STATISTICAL LOOK AT NEBRASKA
Nebraska's welcome to the Big Ten has not been a friendly hello. Save for a 70-58 home win a week ago against Penn State, Doc Sadler's club has dropped five league games by an average of 15.6 points. Offensively, Nebraska is struggling. They're scoring a league worst .84 points per possession in conference play. And they're not much better in some other key areas: 22.6 TO% (10th), 26.9 3P% (12th) and a free throw rate of 28.5% (12th). If Indiana plans to reverse the course of its struggling defense through six Big Ten games, the Hoosiers couldn't ask for a better opponent on paper than Nebraska.
On the other side of the ball, the Cornhuskers have actually played well defensively over their last three. They've held Illinois, Penn State and Wisconsin all under 60 points with two of those efforts coming on the road. None of those teams pack the offensive firepower of Indiana, but it's worth noting that Big Ten opponents are shooting just 22.9 percent from behind the 3-point line against the Huskers. Nebraska has also done a nice job of forcing turnovers (21.5 opponent TO% in league play). The one area Indiana should look to exploit is pounding the offensive glass. Nebraska is the second worst defensive rebounding team in Big Ten play as their opponents are rebounding 36.3 percent of their misses.
MEET THE HUSKERS
Despite their 1-5 conference record, Nebraska received a boost when juniors Dylan Talley (thigh) and Jorge Brian Diaz (foot) returned eleven days ago for their game in Champaign. The 7-foot Diaz, who spots the top block percentage in the Big Ten, is one of four Nebraska players averaging over nine points per game. While not as physical as some of the other post players Indiana has faced to-date, Diaz does have the ability to alter, block and change shots around the basket. Talley, who is fourth on the team in scoring in a reserve role, uses the second most offensive possessions on the team. Talley has taken slightly more 3-point attempts than he has 2s.
The focal point of the offense, however, is senior guard Bo Spencer (pictured). While he hasn't been efficient (45.5 eFG%), he's using the most offensive possessions of any player in the league besides Penn State's Tim Frazier. Spencer, who played his first three seasons at LSU, has hoisted up 96 shots from behind the 3-point line (only hitting 31 percent) and has been very good from the foul line (59-of-68).
Toney McCray, a 6-foot-6 senior, has been Nebraska's best perimeter shooter. McCray is hitting 40 percent of his 3s. And Brandon Ubel, a 6-foot-10 junior, provides little offensively, but is the Big Ten's fourth best offensive rebounder. The majority of Nebraska's regular rotation consists of juniors and seniors.
QUICK FACTS ON NEBRASKA
All-time series: Indiana leads 8-1
Location: Lincoln, Nebraska
Student Enrollment: 24,593
Established: 1869
Filed to: Nebraska Cornhuskers