It's back to work for Verdell following Minnesota loss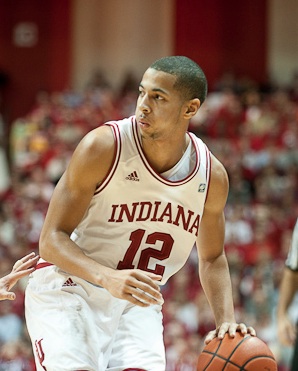 As I walked out of the media room last night, the sound of a ball pounding Branch McCracken Court immediately hit my ears.
So before hitting the exit in the south end of Assembly Hall, I took a quick peek around the corner to find a familiar face hoisting up shots.
It was Verdell Jones.
Headphones on. No expression on his face. Just Verdell, the ball, a student manager to rebound and the basket.
Roughly eighty minutes earlier, the buzzer sounded on arguably the worst stat performance of Jones' Indiana career: 0-of-6 from the field, three rebounds, one assist, one steal and three turnovers in 23 minutes. Scoreless for just the second time in an IU uniform.
A bad game made worse by the fact that the Hoosiers, who had just three days ago soared to No. 7 in the latest Associated Press Top 25 Poll, lost for the first time this season at home to Minnesota.
The Golden Gophers, previously winless in Big Ten play, were coming off a 13-point loss at home to Purdue.
And in what may have been an even more shocking development than the loss for a team that has far exceeded expectations to-date, a smattering of boos were unleashed as Matt Roth was subbed out for Jones late in the second half.
Jones has been the most discussed and critiqued player on the roster for most of his time in Bloomington. Some of the criticism has been justified. Some of it has not.
The overriding theme, at least in the comments from this community, has been "Good Verdell" vs. "Bad Verdell."
Most of the frustration around "Bad Verdell", I believe, derives from the belief that he has, at times, tried to do too much. The reality is that's the position Jones has been placed in for the majority of his career.
And while placing him in that position hasn't produced a bevy of wins over the past three seasons, those fortunes have changed this season. Jones' efficiency numbers are down, but lest we forget so quickly his 17 points earlier in the season at Evansville or 14 points, including 6-of-6 free throws, less than two weeks ago against Ohio State. Or how about the game-winning assist against Kentucky and the mid-range jumper to seal the win over Michigan.
With any player, you take the good with the bad.
Jones was not made available for comment last night, but Herald-Times columnist Ryan Kartje asked Tom Crean a question centered around the premise that the senior guard lost his confidence in last night's loss.
"Did he tell you that? Did he tell you he lost his confidence or is that just your own assessment?" Crean said. "Because he was out there battling I thought. I don't know if it's confidence as much as his edge. Your seniors and juniors when you have two guards like Verdell and Jordan [Hulls] they've got to be on top of the teams' game all the time. They may not be on top of their game because they're going to have struggles in it. But they've got to be on top of the teams' game."
Whether or not any confidence was lost by Jones, a question only he can answer, the fact is Indiana needs him to play better to continue their ascent in the Big Ten. He knows that, which is why he was hard at work past midnight in Assembly Hall.
But beyond just Verdell or any one player, Indiana must regain its edge. Sure, it's an overused buzzword as Crean admits, but it's true. The edge was not there last night. Let's see if it returns Sunday in Columbus.
Filed to: Verdell Jones