What to Expect: Minnesota
The Hoosiers, ranked in the top ten of both polls for the first time since January of 2008, return to Assembly Hall on Thursday night for a meeting with Minnesota. The Golden Gophers (through Tuesday's games) are one of two Big Ten teams still without a conference win.
The game will be shown on BTN (Gus Johnson and Jim Jackson) and broadcast on the IU radio network (Sirius 128/XM 191):
With the exception of a neutral court whipping at the hands of Dayton on Nov. 27, Minnesota took care of business in the non-conference portion of its schedule. The loss to Dayton in the Old Spice Challenge, however, dramatically altered the course of the Golden Gophers' season. Trevor Mbakwe went down with a right knee injury early in the second half of that game. And with that devastating injury, hopes of a return to the NCAA Tournament essentially vanished.
To their credit, Tubby Smith's club responded with six straight wins after losing Mbakwe, which included a narrow 58-55 home win over Virginia Tech in the Big Ten/ACC Challenge. But a tough double overtime loss in Champaign on Dec. 27 was the beginning of a four-game conference skid that Minnesota will bring to Bloomington on Thursday.
Their latest effort, a 79-66 loss to Purdue at the Barn on Sunday, saw the Gophers get torched from behind the 3-point line. The Boilermakers hit 10 of their 15 attempts from distance. With three of their next four games on the road, things could get ugly quickly for the Golden Gophers.
MEET THE GOPHERS
The unfortunate loss of Mbawke has shifted a heavier burden on offense to junior forwards Rodney Williams and Julian Welch. Williams, a talented but often inconsistent threat in the past, is hitting close to 63 percent of his 2s this season. Williams has been effective since shifting to the 4 and his offensive rebounding percentage, block percentage and steal percentage are all up over last season. Welch, a transfer from Yuba Community College (Calif.), is Minnesota's most reliable perimeter threat (19-of-46) and his assist rate (21.7) is among the top 15 in the league.
Ralph Sampson III is also back for the Gophers after flirting with entering the NBA Draft last spring. The 6-foot-11 senior is actually blocking fewer shots than Williams and his other numbers (8.8 ppg, 4.9 rpg) are disappointing for a player with his size and experience.
Three other Gophers to watch include sophomore guard Austin Hollins, freshman guard Andre Hollins and sophomore guard Maverick Ahanmisi. The elder Hollins has been ineffective from 3-point range (18-of-57), but is counted on more for his defense. Andre Hollins has also struggled thus far offensively, but did score in double figures in three of first six games. And Ahanmisi, who is counted on more as a distributor than a scorer, has improved his assist rate while lowering his turnover rate.
THE POMEROY BREAKDOWN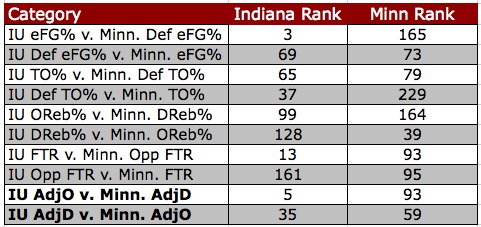 Minnesota's defense, particularly on the perimeter, has not been good. Opponents are shooting 37.5 percent against the Gophers from 3 and the distribution of points coming from behind the arc (31.9 percent) is in the top 60 nationally. They're certainly not Penn State bad in terms of giving up the 3, but given how well the Hoosiers are shooting, it could be another efficient night from distance.
And if the Hoosiers aren't hitting from the outside, Minnesota's suspect work on the defensive glass (32.4 DR%) could allow for some second-chance points. On the plus side for the Gophers, their block rate (16.2 percent) and steal rate (13.6) are both among the top 11 nationally.
Minnesota's offensive scheme is primarily based on shooting a high percentage on 2s (51.9 percent) and attempting to pound the offensive glass (37.1 OR%). The Hoosiers have continued to improve their defensive rebounding numbers, but they've still got a ways to go and the size of Sampson and athleticism of Williams could present problems. Indiana's defensive numbers at-large are still much improved over last season, but they'll enter Thursday night giving up 1.11 points per possession, which is the highest mark in the Big Ten. Given the level of competition through the first four league games, perhaps this game will afford us a chance to learn whether the Hoosiers can begin to shore things up against an inferior team.
Ken Pomeroy likes Indiana by 15 with a 89% chance of victory and a final score prediction of 79-64.
QUICK FACTS ON MINNESOTA
All-time series: Indiana leads 93-65
Location: Minneapolis, MN
Student Enrollment: 52,557
Established: 1851
Filed to: Minnesota Golden Gophers, Rodney Williams