Big Ten Power Rankings: Week 3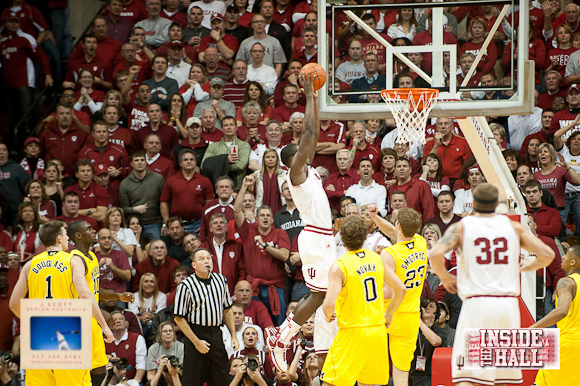 Our third installment of the Big Ten power rankings are ready for your consumption and the movement this week comes in the middle of the pack as every team besides Michigan State now has a loss:
12. Nebraska (8-7, 0-4) (LAST WEEK: 11)…Welcome to the Big Ten, Cornhuskers. They have competed with both Michigan State and Illinois, but got hammered by Ohio State and Wisconsin. If they can't beat Penn State at home on Wednesday, it could be a while before they get a conference win.
11. Minnesota (12-5, 0-4) (LAST WEEK: 9)…The Golden Gophers have competed, but they haven't been able to finish. A home game against Iowa was one they needed to get.
10. Penn State (9-8, 1-3) (LAST WEEK: 12)…The Nittany Lions are pretty good at home, but they have yet to win on the road. A 20-point home win against Purdue was impressive, and they gave Indiana everything it could handle on Sunday.
9. Northwestern (11-4, 1-2) (LAST WEEK: 9)…A one-point loss to Illinois was only the Wildcats' second home loss of the season. The Wildcats have a brutal upcoming schedule, with Michigan, Michigan State and Wisconsin over the next week and a half.
8. Wisconsin (12-5, 1-3) (LAST WEEK: 7)…Two home losses in a row? This must not be a normal Wisconsin team. Jordan Taylor is good, but he can't do it alone. The Badgers are plenty capable of getting on a winning streak, especially with a relatively weak upcoming schedule.
7. Iowa (10-7, 2-2) (LAST WEEK: 6)…They don't necessarily play pretty basketball, but the Hawkeyes have already earned road wins at Wisconsin and Minnesota.
6. Purdue (13-4, 3-1) (LAST WEEK: 4)…The Boilermakers struggled mightily at Penn State, but the Nittany Lions have been playing good basketball at home. A road win at Minnesota was a good redemption victory.
5. Illinois (14-3, 3-1) (LAST WEEK: 8)…They have yet to win in dominating fashion, but the Fighting Illini have taken care of the teams they were supposed to beat. A home showdown with Ohio State on Tuesday should tell us a lot about the Illini.
4. Michigan (13-3, 3-1) (LAST WEEK: 5)…The Wolverines are a legitimate top-15 team, and solid performances at Indiana and against Wisconsin only confirmed that fact. As the year goes on, Michigan should get better and better.
3. Michigan State (14-2, 3-0) (LAST WEEK: 3)…Wisconsin is never an easy place to win, but the Spartans nearly blew a late lead against the Badgers. Again, a good case could be made for Michigan State in either of the top two spots as well.
2. Ohio State (15-2, 3-1) (LAST WEEK: 2)…The Buckeyes are still probably the best team in the conference, but since Indiana beat them, I will keep the Hoosiers in the top spot this week. Ohio State won its two games by a combined 60 points this week — one at home (Nebraska) and one on the road (Iowa).
1. Indiana (15-1, 3-1) (LAST WEEK: 1)…A home win against Michigan was the Hoosiers' third versus an opponent ranked in the top 15 this year. No team in the country boasts three better wins than Indiana's against Kentucky, Ohio State and the Wolverines.
Filed to: Big Ten Power Rankings