The Minute After: Michigan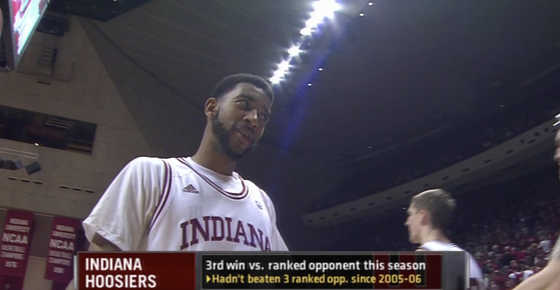 Thoughts on a 73-71 win over the Wolverines: 
Christian Watford wagged his head from side to side, his eyes peering to the left before he put his arms around a smiling Verdell Jones.
His body language said it all: "We escaped."
Just when things started to get comfortable for the Hoosiers — they pushed the lead to 10 with 7:20 to go in the second half — Michigan kept finding ways to hang around. The Wolverines were recipients of some fortuitous buckets off loose balls; it seemed the ball would bounce around and land in Michigan's possession and it would have an open look. Credit also goes to Michigan's defense. The Wolverines mixed in a little 1-3-1 at times in the last few minutes and even when flashing man-to-man, Indiana struggled to get anything going. Cody Zeller, who dominated for a long portion of this one, stopped getting the ball. Victor Oladipo had four fouls and was falling in love with the three. Verdell Jones was turning the ball over. Jordan Hulls was silent.
The Hoosiers, since that aforementioned 10-point lead at the 7:20 mark, only managed eight points the rest of the way. But it was enough. Barely. If it wasn't for Jones' step-in deuce over Tim Hardaway Jr. — who had his moments, but needed 19 shots to score 19 points and probably could have shared the ball a bit more at times tonight — with 25 seconds to go to put Indiana up four, this one may have ended differently. Because Michigan would not go away. Stu Douglass nailed a three to cut it to one, Watford missed the back end of a one-and-one, and Zack Novak had a prayer half-courter to win the game as the clock expired.
It banged off the backboard.
The Hoosiers remained undefeated in Assembly Hall and have now beaten three Top 25 teams in the building. Assembly Hall and #iubb trend on Twitter. Everything continues coming up Hoosiers.
OTHER THOUGHTS:
+ We often talk about Cody Zeller as an NBA prospect, and deservedly so, but Dan Dakich starting banging that gong for Christian Watford tonight (as did Alex), and well, it's not that far-fetched. I think Watford still has a ways to go and is far from a lock at this point, but if he continues on this trajectory for the next season and a half in Bloomington, his name being called on draft night isn't out of the question. He's been playing with more passion and aggression this season, which has helped. And well: The dude can shoot the rock. Watford scored 25 points on 7-of-11 shooting (3-of-4 from three), to go along with seven rebounds and four assists. There were times this evening, particularly that through-the-legs stepback he hit, where he looked like he was on another level. And it was needed, as outside of Zeller (18 points), no one on Indiana cracked double-digits in scoring.
+ Though they didn't shoot a lot of them, Indiana had its best 3-point shooting effort of the season, knocking down 8-of-11 (63.6 percent). Michigan a did a nice job in the turnover department (17.6 TO%) as it turned it over just 12 times to keep them in this one. That tied the Wolverines with Notre Dame for the least turnovers an opponent had against the Hoosiers this season. Alex tweeted both these stats not too long ago. Hey, it's late. And that's all for me tonight.
Filed to: Michigan Wolverines