Hoosiers rise to No. 12, but should they be higher?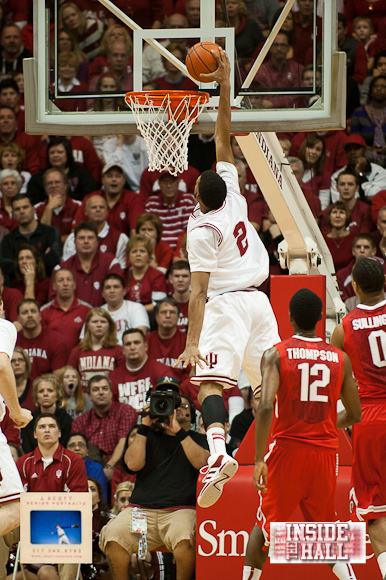 Fresh off a 74-70 win over No. 2 Ohio State on Saturday night in Assembly Hall, Indiana received a bump in both the Associated Press and USA Today/ESPN coaches' Top 25 Polls.
Despite a loss earlier in the week at Michigan State, Indiana jumped up one spot to No. 12 in the AP Poll and climbed three spots to No. 12 in the coaches' poll.
But even with the upward movement for the Hoosiers in both polls, there's still one team ahead of IU that's drawing some controversy from the national media: Louisville.
Eamonn Brennan, our former ITH colleague and now of ESPN.com, weighs-in:
And this is why the polls are the polls: At this point, of course Indiana deserves to be ranked higher. The Hoosiers are 13-1 with a win over Kentucky and a win over Ohio State; few teams outside of UNLV can boast one win of that quality, let alone two. Indiana's only loss came on the road at now-No. 11 Michigan State. Contrast that with Louisville, whose best win is probably a 62-60 overtime victory over a then-struggling Vanderbilt team. The Cardinals lost twice last week, and while the Kentucky loss was actually somewhat impressive — the Cardinals hung tough on the road with a much more talented team — the disappointing home performance to Georgetown early in the week raised appropriate questions about this team's true quality. If you're willing to use per-possession statistics as even a general sign of ability — and why wouldn't you be? — Indiana's numbers rank them among the best seven or eight teams in the nation. As of Monday, Louisville is ranked No. 17.
As did Gary Parrish of CBSSports.com:
The only loss is a loss at Michigan State, and Indiana actually led that game with less than nine minutes remaining. (Michigan State, by the way, is 13-2 with losses only to North Carolina and Duke. So, like I said, IU's loss at Michigan State is not a bad loss.) Meantime, the Hoosiers have wins over Kentucky, Ohio State and Butler. That's really good at this point in the season and why I can't understand the coaches ranking IU 12th.

Let's compare the Hoosiers' body of work to one team ranked ahead of them — Louisville. The Cards are 12-2. They have zero wins over teams currently ranked. They have a loss to the Kentucky team that IU has already topped. And, if you're into this sort of thing, the Cards are nine spots behind Indiana at KenPom.com. So how is Louisville ranked ahead of Indiana? And why is Indiana still outside of the top 10? If the Hoosiers are fraudelant, we'll find out soon enough and adjust accordingly. But for now, they probably belong in the top 10, and they definitely belong ahead of Louisville.
This is, of course, something that happens every season in college hoops and football thanks to preseason rankings. The Hoosiers were off the radar when the season started and only received a spot in the top 25 poll after knocking off Kentucky, which was fair. Louisville, meanwhile, was a preseason top 10 team and reached No. 4 after winning 12 straight games to start the season.
At some point, however, those casting a ballot must replace their preseason prognostications with reality. No, Indiana has not proven it can win on the road in the Big Ten, but the Hoosiers did win at Evansville and N.C. State. Survey the teams in front of IU in the polls and only Baylor, Georgetown and Syracuse can also boast two wins in true road games. And no team has a pair of better wins in Kentucky and Ohio State.
In the end, polls in college basketball are rendered meaningless when Selection Sunday rolls around. But for now, they're a fair topic for debate and discussion every Monday afternoon.
Filed to: Associated Press poll, USA Today/ESPN coaches poll