Big Ten Power Rankings: Week 2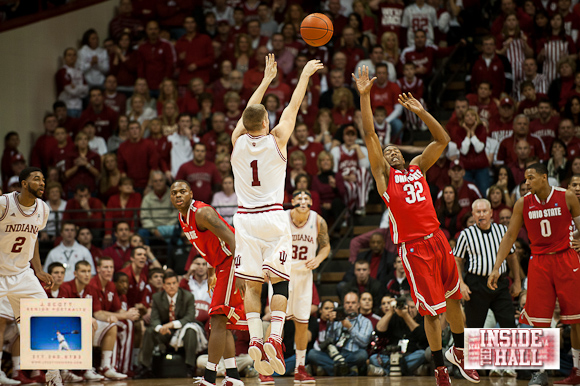 Before the season, some suggested the Big Ten was down a little bit this year. After the first week of conference games, it's clear that it's much deeper than many predicted it would be. Upsets by Iowa at Wisconsin and Indiana against Ohio State show that any team can be beaten on any given day.
So, without further ado, this week's power rankings.
12. Penn State (8-7, 0-2) (LAST WEEK: 11)…An 18-point loss at Michigan isn't terrible, but a 12-point loss at Northwestern is pretty bad. The Hoosiers will see the Nittany Lions in less than a week.
11. Nebraska (8-5, 0-2) (LAST WEEK: 10)…The Cornhuskers played Michigan State tough, but they've lost two home conference games by a combined 37 points to the Spartans and Wisconsin.
10. Northwestern (11-3, 1-1) (LAST WEEK: 8)…The Wildcats beat a weak Penn State team at home, but got hammered at Ohio State. They've lost both of their road games this season.
9. Minnesota (12-3, 0-2) (LAST WEEK: 9)…Even without star Trevor Mbakwe, the Golden Gophers have hung tough with two of the Big Ten's better teams on the road. They pushed Illinois to double overtime before falling by nine, and lost by just five points at Michigan.
8. Illinois (12-3, 1-1) (LAST WEEK: 7)…The Illini's double-overtime win against Minnesota raised some eyebrows, and a 15-point loss at Purdue raised even more. Illinois is talented, but is it good enough to be a conference contender?
7. Wisconsin (12-3, 1-1) (LAST WEEK: 3)…The Badgers' 72-65 home loss to Iowa shows how deep the Big Ten is this year. Jordan Taylor's numbers are down so far.
6. Iowa (9-6, 1-1) (LAST WEEK: 12)…Who had the Hawkeyes as a contender? They lost to Purdue by only three points at home and pulled a major upset at Wisconsin.
5. Michigan (12-2, 2-0) (LAST WEEK: 5)…The Wolverines may be unbeaten in conference, but they haven't really played anybody. Their home wins against Minnesota and Penn State are good, but they don't show whether or not Michigan is for real.
4. Purdue (12-3, 2-0) (LAST WEEK: 6)…Yes, the Boilermakers have climbed into the top four. Their win at Iowa looks more impressive after the Hawkeyes upset Wisconsin.
3. Michigan State (13-2, 2-0) (LAST WEEK: 4)…The Spartans looked impressive in beating Indiana, but they did it home where the Hoosiers haven't won a game in more than 20 years. They also won at Nebraska.
2. Ohio State (13-2, 1-1) (LAST WEEK: 1)…The Buckeyes are extremely talented, but the Hoosiers exposed their lack of depth Saturday night. Plus, Jared Sullinger, Aaron Craft and Deshaun Thomas are still just sophomores.
1. Indiana (13-1, 1-1) (LAST WEEK: 2)…You could make a case for Michigan State in this spot given their win against the Hoosiers, but nobody in the conference — or the country — has two better wins than Indiana's against Ohio State and Kentucky.
Filed to: Big Ten Power Rankings