The Minute After: Ohio State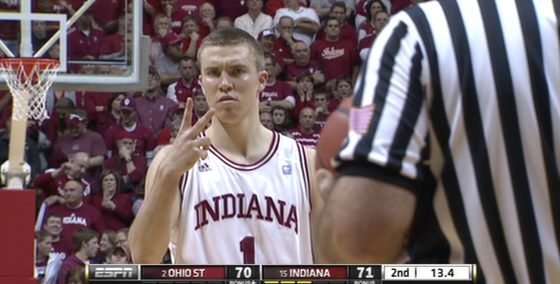 Thoughts on a 74-70 win over the Buckeyes:
For about the first 30 minutes tonight, this game was devoid of flow.
Whistles dominated. And key players found themselves in foul trouble. The Buckeyes' top three scorers — Jared Sullinger, Deshaun Thomas and William Buford — all ended the contest with four fouls. Thomas and Sullinger sat for a large chunk of the first half with two early ones each. As a result, the Hoosiers went on a 23-13 run after Sullinger left with his second foul and went into the locker room with a 33-32 lead. Cody Zeller, for the first time this season, fouled out with 2:24 to go in the game. It all affected defense. Often, Sullinger, Thomas and Buford — not wanting to pick up another foul — played off Indiana some and allowed them to get buckets at the rim. By the time this one was over, Indiana had outscored Ohio State 38-34 in the paint after the Buckeyes had protected the rim well to start the game.
Thankfully, this one wasn't won or lost for either team due to fouls. Things opened up the last 7-8 minutes, and it was a joy to watch. Each team trading bucket after bucket, the lead changing and changing, both teams unable to pull away. Neither led by more than three from the 9:06 mark onwards until two seconds to go in the contest, when Christian Watford hit two free throws to put the Hoosiers up four and seal the deal.
So it would come down to late-game execution. And the Hoosiers, as they did against Kentucky, as they weren't able to do for so long under Tom Crean, were the ones getting it done when it mattered. Down 70-69 with just under 40 seconds to go, Jordan Hulls deflected an Aaron Craft pass to Sam Thompson, which tipped to Verdell Jones. Jones found Victor Oladipo — who played some tremendous defense on Craft in this one and had a strong offensive night with 15 points on 7-of-13 shooting — down the court, who scooped under the hoop to avoid Thompson and score. It put the Hoosiers up 71-70. After Ohio State took its final timeout of the game, Derek Elston played strong post defense on Sullinger. So Craft drove to the hoop on Oladipo. Hulls slid over to help, leaving Thompson open near the basket. But the pass hit off his hands and out of bounds.
Hulls was fouled on the next inbounds and hit the front end of a one-and-one. 72-70 Indiana with 13.4 to go. On the ensuing Ohio State position, Buford quickly jacked a highly-contested three, perhaps thinking the Buckeyes were down by that amount. In any case, the board went to Watford, he was fouled and made the aformentioned two free throws.
Game over. The Hoosiers now the winner of contests against both the No. 1 and No. 2 team in the nation inside Assembly Hall this season. Who woulda thunk it?
OTHER ITEMS OF NOTE:
+ Ohio Sate came into the game sixth in the nation in turnover percentage (15.5). But Indiana turned them over at  a 25.2 percent clip this evening (17 turnovers) which resulted in 16 points off turnovers for the Hoosiers. Ohio State scored 13 points off 12 Indiana turnovers.
+ Indiana had a bit of an off night at the line this evening, hitting only 68.2 percent (15-22). Even Hulls missed one. But even though the Buckeyes got to the line more (19-of-26, 73.1 percent), the Hoosiers still pulled out the W.
+ Thomas (five points on just 2-of-6 shooting) and Buford (eight points) were both held under their season averages of 15.9 and 16.6 points, respectively. Some of this was due to their foul issues, but credit Indiana's D for holding these two in check as well.
+ Alright, that's all she wrote for me in 2011. Be safe if you're venturing out this evening. Peace and love in the New Year.
Filed to: Ohio State Buckeyes