Notebook: Zeller struggles, Watford reaches 1,000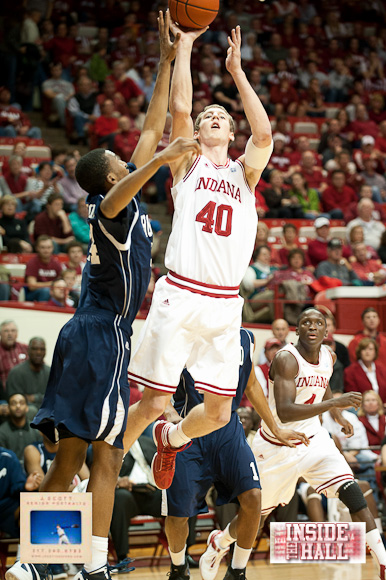 Cody Zeller was bound to have one of these nights eventually.
The four-time Big Ten Freshman of the Week entered Wednesday night averaging 15.1 points and 7.3 rebounds — both leading the Hoosiers — but the Spartans held Zeller in check all night. He finished with four points and three rebounds in 23 minutes — all season-lows.
Welcome to Big Ten basketball.
Part of the issue was the four fouls he picked up, but most of the issue was the Spartan interior.
"They were very physical," head coach Tom Crean said of MSU. "He's not used to dealing with people that have that kind of size. The physical strength and weight they have at Michigan State, they're a very physical team. … He'll learn from it."
Zeller will have to learn that everyone in the Big Ten is physical. Junior guard Jordan Hulls was confident Zeller would be able to move forward from the loss.
"The Big Ten is very physical," Hulls said. "Things are going to happen. They know our gameplan really well, we know their gameplan really well. It's just a learning experience. He's going to learn. He's fine."
RUNNING AND GUNNING
They say basketball is a game of runs. Wednesday night's game saw two of the bigger runs you'll ever see in a Big Ten game.
From 4:48 left in the first half to 14:49 left in the second, the Hoosiers went on a 25-2 run, turning a 34-16 deficit into a 41-36 lead.
But after Indiana took a 54-45 lead, the Spartans went on a 20-0 run in just over six minutes, grabbing a double-digit lead. They finished the game on a 35-11 run.
"It's just Big Ten basketball," junior forward Christian Watford said. " I knew coming in, being a veteran guy, I kind of expected those things. It's a learning process. We're going to move forward from it. … We just didn't get enough defensive stops and it led to some easy buckets for them, and once they got rolling, it was kind of hard to stop them."
NOT FINDING THE LINE 
MSU coach Tom Izzo said the Spartans' No. 1 goal on the night was to defend without fouling, and they did just that, giving Indiana just nine free-throw attempts, five of which were made.
The Hoosiers entered the night as one of the best teams in the country at getting to the free-throw line, but the Spartan defense, and the officials, made it difficult.
"Not getting to the free-throw line is a problem for us," Crean said. "Not getting enough drives to the hoop."
1,000 FOR WATFORD
Along with leading the Hoosiers with season-highs of 26 points and 10 rebounds (tie), Watford eclipsed the 1,000-point mark for his career. Watford currently leads Big Ten juniors in career scoring.
"It means a lot to me, it means a lot to our program," Watford said. "But I can't really enjoy that at a moment like this."
Chris Vannini is a freelance sports journalist in Michigan who has covered Michigan State athletics and the Detroit Tigers over the past four years. You can follow him on Twitter at @ChrisVannini and contact him at [email protected]m.
Filed to: Christian Watford, Cody Zeller, Jordan Hulls, Michigan State Spartans