Big Ten Power Rankings: Week 1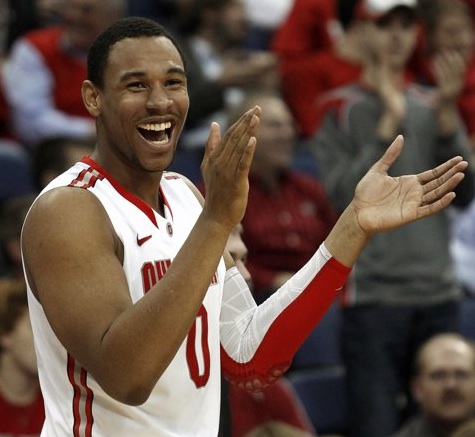 Inside the Hall's Big Ten power rankings are back. Each Monday during the conference season, we'll deliver our team-by-team ranking of the league. For the first edition, the descriptions after each team will be a little bit longer than normal.
Inside the Hall Big Ten power rankings: Week 1
12. Iowa (8-5)…There's just no other way to say it — the Hawkeyes are bad. A 77-61 home loss to the Campbell Fighting Camels is about as ugly as they come.
11. Penn State (8-5)…The Nittany Lions have had a number of close losses, not including a 85-47 blowout defeat against Kentucky. Guard Tim Frazier is averaging an impressive 17.2 points per game.
10. Nebraska (8-3)…The balanced Cornhuskers have an impressive double-overtime win over USC on their resume, but not much else. Guard Bo Spencer (16 ppg) is a player to watch.
9. Minnesota (12-1)…When the Gophers lost Trevor Mbakwe, they lost any real chance to compete in the Big Ten. Minnesota has six players averaging between 6.1 and 9.9 points per game, but without Mbakwe, the Gophers no longer have a player capable of carrying the scoring load.
8. Northwestern (10-2)…The Wildcats have beaten Georgia Tech and Seton Hall, and they lost to then-No. 21 Creighton by just eight points. John Shurna and Drew Crawford are each capable of putting up huge numbers on any given night, and the Wildcats have a group of role players to do the dirty work.
7. Illinois (11-2)...The Illini's impressive performance against unbeaten Missouri is proof that they have the talent to compete with anybody in the conference. They've got plenty of depth with D.J. Richardson, Meyers Leonard and Brandon Paul, but Illinois is too inconsistent to be considered a power in the conference.
6. Purdue (10-3)…The Boilermakers have been disappointing in late-game situations without a reliable go-to player. Their loss to Butler at Conseco Fieldhouse was particularly bad. But with Robbie Hummel, Lewis Jackson, Kelsey Barlow and Ryne Smith all back, the Boilers will be around for awhile. If Jackson can make a free throw, that is.
5. Michigan (10-2)…Talented? Yes. But something tells me the Wolverines will find some way to underachieve. They beat a good Memphis team, but then lost to a fairly average Virginia club. Tim Hardaway Jr. has what it takes to be a star in the conference, and Zach Novak and Stu Douglass provide plenty of experience that should keep Michigan in the hunt.
4. Michigan State (11-2)…The Spartans aren't as talented as they've been in recent years, but you can never bet against Tom Izzo. The experience of Draymond Green pushes the Spartans slightly ahead of Michigan. Michigan State is also battle tested. Even though the Spartans lost their only two games against ranked teams, they competed with both Duke and North Carolina.
3. Wisconsin (11-2)…The Badgers lost a lot of leadership and production in Jon Leuer, but they have star guard Jordan Taylor back. Taylor's numbers are down a bit this year — he's averaging just 12.2 points per game after putting up 18.1 per contest last season — but he usually heats up when Big Ten season gets rolling. Without Leuer, though, defenses have been able to key on Taylor, which has resulted in much poorer shooting numbers than a year ago. Taylor is shooting only 32 percent from 3-point range this season, down from 43 percent in 2010-11. Still, look for Taylor and the Badgers to hang around at the top of the conference standings and battle for a title late.
2. Indiana (12-0)…You could make a case for the Hoosiers in the top spot, but the Buckeyes are still the conference's best when they have Sullinger in the lineup. At this point in the season, nobody has a more impressive win than Indiana's against Kentucky. The Hoosiers do have a couple of question marks at they prepare to play Michigan State. First, how will Cody Zeller hold up against consistently good and physical competition? Second, how serious are the injuries to Will Sheehey and Verdell Jones? With such a young team, the Hoosiers can't afford to lose anybody.
1. Ohio State (12-1)…The Buckeyes' lone loss to Kansas came when they were without star big man Jared Sullinger. With Sullinger in the lineup, the Buckeyes are as good as any team in the country. Their dominating 85-63 win against Duke made that perfectly clear. Without him, though, Ohio State is beatable. Indiana native Deshaun Thomas is having a breakout season for the Buckeyes, and William Buford and Aaron Craft provide necessary experience. But the Buckeyes aren't all that deep.
Filed to: Big Ten Power Rankings