Crean calls injuries to Jones, Sheehey "day-to-day"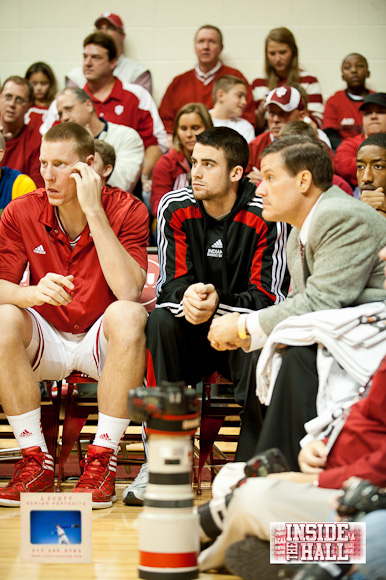 As expected, Indiana played Thursday night's game against UMBC without its two top reserves.
Derek Elston (nose) and Will Sheehey (left ankle) missed the Hoosiers' 89-47 rout of UMBC and senior guard Verdell Jones also went down with a hip injury late in the first half.
Jones appeared to slip while attempting to throw a post pass with 43 seconds left in the first half and did not return.
"I haven't had a chance to really sit and talk to the doctors right now," Indiana coach Tom Crean said of Jones' injury. "He was moving around a little better [after the game]. I think he injured his hip. Probably more of a hip flexor than anything else."
Sheehey's injury, which occurred when the sophomore wing stepped on a loose ball in a scrimmage situation during Wednesday's practice, will continue to be evaluated over the next several days.
"It's really going to be day-to-day. There was some progress made today," Crean said. "It's very much that. … Just waiting for swelling to go down. It truly will be that kind of situation. I don't think it's anything that's going to be long term. But I don't think to put a date on it or a timeline on it, we're not there yet because the doctors and Tim [Garl] aren't there yet."
Indiana is expected to have Elston back for Wednesday's Big Ten opener in East Lansing. The junior forward from Tipton, Ind. will be wearing a protective mask following surgery to repair a nose fracture.
"He wanted to paint it. He had some ideas and we shut that down real fast," Crean said with a smile when asked about Elston's mask. "We made sure during the game he was doing his rehab on his nose, stretching his nose now and again. Derek is a real treat. He is a real treat. That'll be just a regular, plastic face mask. He's not painting it like a hockey goalie, I know that."
Filed to: Derek Elston, Verdell Jones, Will Sheehey