Howard notebook: Hulls automatic from 3 — even with his left hand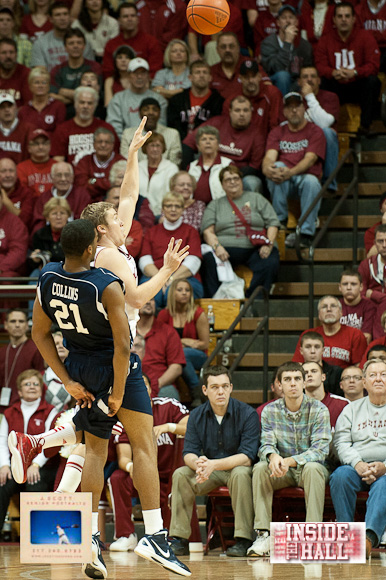 Indiana shot the ball so well in the first half Monday night against Howard, it seemed as if everything the Hoosiers threw up was going to go in.
The No. 17 Hoosiers (11-0) made nine 3-pointers in the first 20 minutes of their 107-50 win, capped by Jordan Hulls' fourth of the half with 49 seconds left. The fact that Hulls connected on a three was not a surprise. The way in which he did it, however, was certainly unorthodox.
With the shot clock running down, Hulls dribbled hard to his left. When he was unable to get past his defender, the right-handed junior shot and made a left-handed 3-pointer while still on the move.
Will Sheehey called it "the best 3-pointer I've ever seen."
"That's pretty impressive," said Indiana coach Tom Crean. "His teammates and the coaches see him do that a lot, especially when he comes out and warms up or when he's just shooting after practice or before practice. But he's very gifted with both hands. I don't think he would have taken it that way if he didn't feel like he could make it."
Hulls finished with a game-high 16 points on 5-of-6 shooting, including 4-of-5 shooting from beyond the arc. He's shooting 24-of-41 from three for 58.5 percent, the fourth highest mark in the country.
As a team, the Hoosiers hit 11 3-pointers on 20 attempts with seven players making at least one.
IN SPECIAL COMPANY
With the win, the Hoosiers have their best start since the 1975-76 season – the year Indiana went 36-0 and won the national title.
Crean didn't want to compare his team to the '76 national champions, but he acknowledged how special it is to even be mentioned in the same sentence with them.
"Our guys were on it. They were ready to play, excited to play and wanted to join some elite company," Crean said. "There's no way around that when there's only a few teams in the illustrious history of this program that have started 11-0. They wanted to join that, and I'm proud of them."
If the Hoosiers beat the University of Maryland Baltimore-County Thursday night, they would match the most wins by a team in the Crean era before they play a single Big Ten opponent.
SPREADING THE WEALTH
Since the Hoosiers had the game well in hand by halftime, Crean was able to go deep into his bench in the second half.
The Indiana bench combined to make 15-of-20 shots for 47 points, led by Will Sheehey with 12 points.
Freshman Remy Abell turned in his best performance of the year, finishing with nine points and five assists in 14 minutes. Abell saw a good amount of time at the point guard position in relief of Hulls, and he didn't commit a turnover.
"Going back to the point feels natural to me," Abell said. "It feels good."
Even sparingly used senior Kory Barnett got into the scoring column with a late contested 3-pointer. Barnett, who had scored only two points all season, thought he may have been fouled, too.
"I was hoping for it," he said. "I had a knack in high school of kicking the leg out and faking it a little bit. But I think he could have got me a little bit."
Barnett plans to go into coaching after he graduates. Crean believes he'll be successful.
"He's done a fantastic job here," Crean said. "He's got a great future as a coach. There's no question about that. … It was bedlam over there when he hit [the shot]. That was as excited as our bench was. That says everything you need to know about Kory Barnett."
Added Barnett: "I'm lucky. I've experienced everything in four years. To have that advantage over everybody else is awesome."
Filed to: Jordan Hulls, Kory Barnett, Remy Abell