Fresh off a grind-it-out win over Notre Dame at Conseco Fieldhouse on Saturday, Indiana returns to Assembly Hall tonight for a meeting with the Howard Bison. The game will be shown on the Big Ten Network (Gus Johnson/Quinn Buckner) and broadcast on the IU radio network (Sirius 128/XM 190):
Before the Hoosiers hit the road in nine days for East Lansing, two games await in Assembly Hall to finish out the pre-conference schedule. And according to both the Ratings Percentage Index (RPI) and KenPom.com, the opponents are the two weakest on the entire schedule.
Through Saturday's games, Howard, a member of the Mid-Eastern Athletic Conference ranks No. 333 in the RPI and No. 302 in the Pomeroy Ratings out of 345 Division I teams. The Bison (3-8) have not won a road game since Jan. 18, 2010 and are coming off a 21-point loss at Oregon State last Thursday.
A LOOK AT THE POMEROY NUMBERS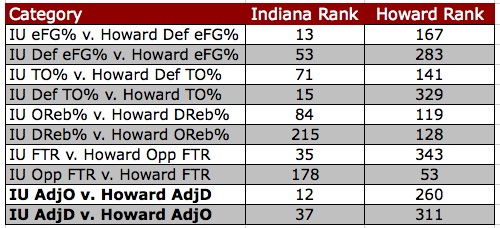 Howard is simply outmatched against an Indiana team that will be looking to get back on track following a subpar offensive performance  in Conseco Fieldhouse. Only two teams in Division I are sending their opponents to the free throw line at a higher rate than the Bison and not many teams are turning it over with more frequency, either.
It's tough to pinpoint a single area where Howard could give the Hoosiers trouble. Their profile is that bad despite losing some close games. This should be a solid opportunity for Tom Crean to work on putting in some new sets and also dip into the bench a little deeper to get some guys like Austin Etherington, Daniel Moore, Matt Roth, Remy Abell and Tom Pritchard some solid run once the game is in hand.
MEET THE BISON
Kevin Nickelberry's team has five players averaging between 9.3 and 11 points per game, but not one of them boasts a KenPom offensive rating over 100. For some perspective, only Tom Pritchard and Verdell Jones are below 100 in that category on the entire Indiana roster.
Simuel Frazier, a 5-foot-11 freshman, is using the second most Bison possessions and his 10.8 points per game are fifth on the team. His effective field goal percentage (52.6) is by far the best among the regulars in the back court. Frazier will likely be joined in the lineup by 6-foot-5 freshman Prince Okoroh, who is shooting close to 55 percent on two's but just 4-of-19 from behind the 3-point line.
Senior guard Glen Andrews, a transfer for Tulsa, started in his first game on Thursday at Oregon, but shot just 3-of-13.
A player the Hoosiers will need to keep a body on, particularly on the glass, is Mike Phillips. The 6-foot-7 junior is third on the Bison in scoring (10.5) and first in rebounding (7.7).
QUICK FACTS ON HOWARD
All-time series: Indiana leads 1-0
Location: Washington, D.C.
Student Enrollment: 10,491
Established: 1867
Filed to: Howard Bison