The Minute After: Notre Dame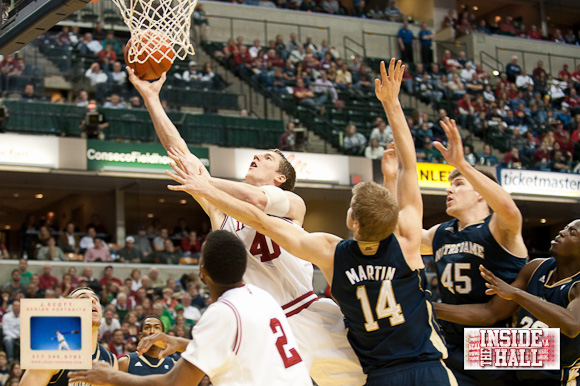 Thoughts on a 69-58 win over the Fighting Irish:
This was not Indiana's finest performance.
After all the Kentucky game's emotion and what followed during the off week — the endless stream of celebration videos, the national media interviews, the first entry into the country's Top 25 in the Tom Crean era — some expected this. Feared it.
And there it was, happening on a dead late afternoon inside Conseco Fieldhouse: The Hoosiers found themselves down nine in the first half to an average Notre Dame team — its largest deficit of the season. This one was ugly and foul-heavy and it dragged on and on. It was generally just one to forget.
The Fighting Irish didn't hit a shot for the final 14:33 of the first half. And yet, the Hoosiers were only able to muster a modest six-point lead (26-20) at the break because they had offensive problems of their own (just a 34.4 eFG% in the first half). Indiana didn't hit its first 3-pointer until Jordan Hulls splashed one through at 13:56 in the second half. And even though the Hoosiers built a comfortable lead in the final twenty minutes — leading by low double-digits for a long stretch — Notre Dame was really only a mini-run away from making a game of it despite only hitting 38.7 percent from the field.
The Irish were able to hang in this one thanks to free throws (a staggering free throw rate of 78.6 percent where they hit 22-of-33 from the line to account for 37.9 percent of their points).
In a game where the Hoosiers failed to execute efficiently on offense, Cody Zeller made the difference. The freshman scored 21 points in 27 minutes on 8-of-14 shooting on a range of buckets around the basket. He went 5-of-6 from the line and had eight boards. And save for picking up four fouls which kept him out on defense during the final stretch of the game, he was exactly what Indiana needed in this one.
Indiana now finds itself coming up on what what should be a couple of easy wins; it faces Howard on Monday before taking on UMBC on Thursday. But after these two games, the Big Ten beckons.
A road test against a Michigan State team that's on the rise on Dec. 28. A New Year's Eve bout at home against a talented Ohio State squad.
And an effort like the one the Hoosiers displayed against Notre Dame? It ain't gonna cut it against the Spartans or Buckeyes.
Filed to: Notre Dame Fighting Irish