Steady play from Zeller nets tenth straight win for IU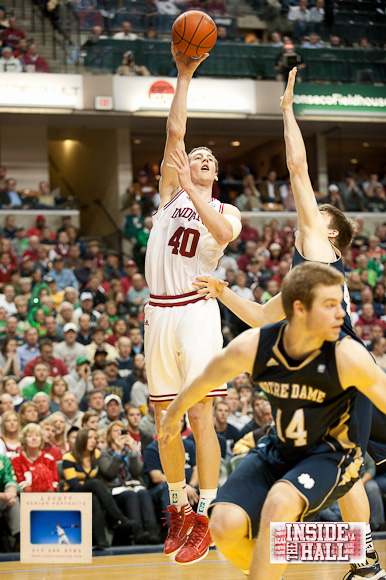 Notre Dame went ahead of the Hoosiers 15-6 after Eric Atkins' reverse layup with 14:33 to go in the first half.
In the past three years, that might have signaled the beginning of the end for Indiana. Without enough consistently reliable scorers, the Hoosiers rarely came back from such a deficit.
But those teams didn't have Cody Zeller.
The 6-11 freshman sensation kept the Hoosiers (10-0) in the game long enough for his teammates to find their offensive rhythm, and then carried them their tenth consecutive win to start the season.
In one of the Hoosiers' worst shooting games of the season, Zeller came up with one of his best – and most important – performances.
"It was very important to get Cody established from the beginning," said Indiana coach Tom Crean. "It's living proof that you can go to him, and you can go through him. He did numerous things with the ball."
IU's freshman big man finished with 21 points – two off his career-high – and eight rebounds. His teammates fed him in the post early and often once it became clear Notre Dame had nobody that could guard him.
Zeller got himself started with offensive rebounds and tips around the rim, and then used his quickness to score on Notre Dame's Jack Cooley. When the Irish (7-5) brought a double team, Zeller found cutting teammates for easy baskets.
"We've got to play through Cody all the time," Indiana guard Jordan Hulls said. "He can do so many different things. You throw it in, he can either score, he can pass – we've just got to cut off him. He's unselfish so he'll still find the open man. It's very crucial that we do that every game."
Notre Dame coach Mike Brey said his team wanted to force Zeller to catch the ball further away from the basket, but the Irish struggled to do that in the second half.
"He's really a talented kid," Brey said. "He's got great footwork, he can spin off you. Certainly we could not defend him."
The last time Indiana played Notre Dame, Cody's brother, Luke, was playing for the Irish. The eldest Zeller had 10 points and 11 rebounds as Notre Dame dominated the depleted Hoosiers 88-50 in the Maui Invitational.
Cody Zeller couldn't make the trip to Maui that day because he had a high school game of his own, but he certainly hasn't forgotten it.
"My whole family was out there, so I had Thanksgiving alone," Zeller said with a smile. "We talked about it a little bit this week. It was a bad memory for the IU team. We wanted a little bit of payback."
Filed to: Cody Zeller