Indiana needed — and deserved — this win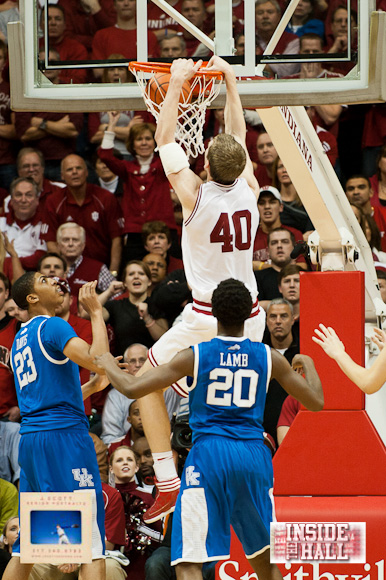 It almost felt like it was supposed to happen this way.
The Hoosiers blew their 10-point lead and trailed No. 1 Kentucky 72-70 with only 5.6 seconds left. But some way, somehow, you just knew something magical was about to happen.
After everything Tom Crean and this program has been through over the last three-plus years, Indiana needed –- and probably deserved –- a win like this one.
"I hate to lose, but if I'm to lose, losing to Tommy's [Crean] fine because of what he's done here in four years," Kentucky coach John Calipari said. "And having to do it the way he did it, where you're undermanned and now you're trying to fight everybody [saying] 'why aren't we winning?'
"For him to have this happen to him, for he and his family, I'm happy for him. They deserved to win the game."
Even after Kentucky's Doron Lamb missed one of two free throws, the Hoosiers needed so much to happen for them to win.
They had to avoid getting fouled when Kentucky had two to give. They had to get the ball down the court in a hurry and stay spread. They needed a Wildcat defender to forget about Christian Watford. And they needed Watford –- who played the best game of his career -– to hit the biggest shot of his life.
No foul, Verdell Jones rushed the ball down court, Darius Miller got sucked in, Watford splashed it.
Game over.
"It was like a dream, like slow motion," Indiana athletic director Fred Glass said afterward. "In some ways, I couldn't believe it, but in other ways, I couldn't believe it would end any other way. It was kind of like it was a game of destiny.
"IU basketball is back. There couldn't have been a bigger signature win."
It's hard to accurately describe what this means for the Hoosiers going forward. To be obvious, it's huge.
Indiana beat the nation's most talented team and one of its most hated rivals in front of a national television audience. Everybody saw firsthand that Crean hasn't just been twiddling his thumbs and collecting a paycheck these last three years –- he's been rebuilding a program.
Crean's team played a team much bigger, stronger and more talented than it –- and won.
"He came to a job he knew was going to be tough, and it was even tougher than what he thought," Glass said. "He never looked back, he never regretted his decision. All he did was almost single handedly bring back Indiana basketball."
When the game began Saturday afternoon, Assembly Hall was as loud as any place I've ever been. I figured there was little chance the crowd could keep up the same energy throughout the game, especially during times when Kentucky went on runs.
But unbelievably, it got louder as the game went along. Only once could I hear the PA announcer say the name of the player who scored the last basket.
The fans believed Indiana could win the game. They started camping outside Assembly Hall on Tuesday, lined up in droves early Saturday morning, and filled the arena long before the opening tip.
They've been waiting for a moment like that for as long as Crean has, and they've been there every step of the way.
"Our fans deserve that," Crean said. "They deserve to storm the court, they deserve to stand on chairs and tables and be excited."
Added Glass: "The students have wanted to storm the court for a game that really matters, they've wanted to play with the big boys."
The Hoosiers played with the biggest boys (have you seen Anthony Davis?) and won a game that matters more than anybody can describe. Not only did they upset the nation's top team at the buzzer, they knocked off a club Crean called "the standard of college basketball".
Crean and the Hoosiers beat a coach in Calipari who tries to win with one-and-done players. Crean, on the other hand, wants to build a program –- not an NBA preparatory academy.
Saturday's win is proof that Crean's way can win.
"It was particularly sweet that beating the No. 1 team in the country was beating Kentucky," Glass said. "I heard Calipari quoted as saying that it was more important to him to get kids to the NBA than to put up banners. I think that's really too bad. College basketball ought to be about building programs.
"The respective coaches (Crean and Calipari) are taking different approaches to coaching basketball. I think Tom's doing it the right way."
It was certainly a win –- and a shot –- that no one will soon forget. When people look back at Dec. 10, 2011, they'll remember it as the day Indiana basketball officially came back.
Crean loves the phrase, "This is Indiana."
After Saturday's win, we have a much better idea what that really means.
Filed to: Fred Glass, Tom Crean