A night to remember in Assembly Hall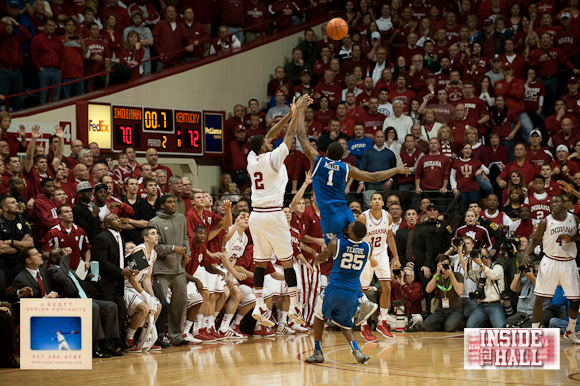 Once the raucous crowd on the Assembly Hall court finally began to subside, Christian Watford made his way into media room — still in partial disbelief over what had transpired less than 45 minutes earlier.
"It's indescribable. I don't even really know what happened. I couldn't really tell you," said Watford, who knocked down the biggest shot of his career to lift the Hoosiers past No. 1 Kentucky, 73-72. "All I know is that I saw Verdell [Jones] driving and I just tried to loop behind him and he did a great job of finding me and I got a shot."
A picture-perfect ending to a signature win for a program that has made little more than a national whimper the past three seasons. A win that should carry Indiana into the top 25 polls that will be released on Monday. A win that the NCAA Tournament selection committee will put an asterisk next to when March rolls around.
And a win that confirms what so many were cautious to say after eight games: Indiana is back.
But perhaps more important than all of those things, according to Tom Crean, this was a moment that everyone associated with the program could share together.
"This is one of the most shared moments that I've ever been a part of, maybe the most shared moment where you want to share it with everybody that's been a part of this program long before we got here, the ones that have joined in, in the sense of becoming fans over a period of time," Crean said. "This is the epitome of what Hoosier Nation is all about and the fans and everybody that supports this program from close and far, young and old, they deserve it because it's one of those moments that everybody's going to remember."
Remember it they will.
THE FINAL PLAY
With no timeouts remaining for Indiana and Doron Lamb stepping to the line with 5.6 seconds remaining, Crean said he made adjustments to the full court play he would normally call because Kentucky had fouls to give.
"We knew they had fouls to give so we weren't going with our conventional five-second, full-court play because we bring too many people up and we weren't going to be able to win the game if we did that, so we wanted to break long and give Verdell [Jones] the ball if we didn't have anybody long," the Indiana coach said.
After Lamb made the free throw, Watford inbounded the ball to Jones, who used a halfcourt screen from Cody Zeller to avoid Kentucky guard Marquis Teague.
"We were going to foul them. We had two fouls to use," Kentucky coach John Calipari said. "Marquis tried to foul and they didn't call it.  No one fouled."
Freed from any direct ball pressure, Jones made his way to the left wing, stopped, pivoted and dished the ball to a trailing Watford.
"When I got the ball I knew [Watford] was going to be sprinting down because he was taking the ball out and he was the trail-man," Jones said. "I just drove in and he was like `V, V' and I turned around and passed it to him and the rest is history."
Watford, who finished with a game-high 20 points, described the moment as perhaps the biggest of his entire life.
"It's a great feeling. I haven't felt anything like that," he said. "It's probably the most memorable moment of my life, definitely of my career. I give God all the thanks, if it wasn't for him I wouldn't be able to do this at all."
Television replays showed Crean with no expression on his face after the shot went in and the celebration inside of Assembly Hall quickly escalated.
"Stunned," Crean said of his personal reaction. "I wanted to make sure it counted because I saw the referees running over to the monitor so I wanted to hold the excitement there. I talked to John [Calipari], shook hands with a couple of guys and just wanted to wait and then when you could see on the clock that it was off and through before the red light came on, take a moment to raise the hands and then I just really wanted to find my family and my wife."
A FITTING FINISH FOR JONES, WATFORD
As a senior that lived through the 28-66 nightmare that was the previous three seasons, there is perhaps no other Hoosier that truly appreciated the postgame celebration more than Jones.
"It was one of the best feelings," the senior guard from Champaign, Il. said. "All our hard work, all of our sweat and tears are starting to pay off a little bit. This is the first step."
The first step, but a giant step for a program that's taken as many body blows from the national media as any in recent years.
Questions about Crean's future. Questions about the talent level not accumulating fast enough. Questions about Indiana's place in the college basketball landscape. And even questions about where Watford and Jones fit on this team with the emergence of Victor Oladipo and Will Sheehey and the arrival of Cody Zeller.
All of those questions were answered on Saturday night.
"I'm so happy for both of them [Jones and Watford] because they've improved leaps and bounds," Crean said. "They've been here through a lot and for those two to connect on a game-winning play like that, that's a big time moment."
Filed to: Christian Watford, Tom Crean, Verdell Jones