Moore's defense sparks Hoosiers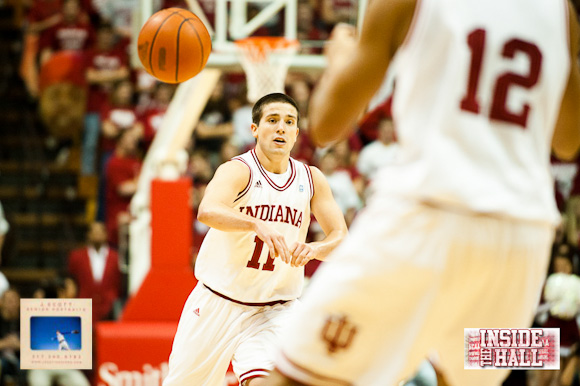 Daniel Moore is used to playing just a couple minutes at a time.
He knows his role for Indiana is to provide energy off the bench and make the starters better in practice.
So when coach Tom Crean inserted Moore into the starting lineup to begin the second half against Stetson Sunday afternoon, Moore simply did what he does best.
The senior guard had two steals and two assists early in the second half, sparking an Indiana team that led just 33-29 at the break. Moore didn't score, but finished the game with three steals, three assists and, according to Crean, a career-high 10 deflections.
"It's not really anything you can practice," Moore said after the Hoosiers' 84-50 win. "I just know I'm only going to get a couple minutes at a time, so I've got to make them count. If it's two minutes, then I can't really waste 30 seconds or a minute kind of getting myself loose. I've got to be ready from the first play I get in."
Crean said Moore was a big reason the Hoosiers opened the second half on a 7-0 run and outscored the Hatters 51-21 in the final 20 minutes. Moore pressured his man all over the court and took Stetson out of its comfort zone.
"I'm really pleased with how he ran the team," Crean said. "He played under control but, at the same time, he played very fast, which is what we needed.
"Spark with a capital 'S' to start the second half."
Moore, a former walk-on, has seen his minutes diminish as Crean has brought in more talent. He played only three minutes against Butler on Nov. 27 and didn't see the court Wednesday night against N.C. State.
But that hasn't fazed Moore.
"I just try to keep doing what I do well," Moore said. "I'm not going to score a lot or do anything much more than that. I know my role, and I try to do that well."
The Carmel, Ind. native brought the crowd to its feet with two alley-oop passes in the second half – one to Victor Oladipo and the other to Tom Pritchard.
Moore tried to get Pritchard – another senior who now gets fewer minutes – a dunk earlier in the game, but the pass was knocked away by a Stetson defender.
"Tom's my buddy," Moore said, "so I try to get him a bucket every now and then."
Filed to: Daniel Moore