The Minute After: N.C. State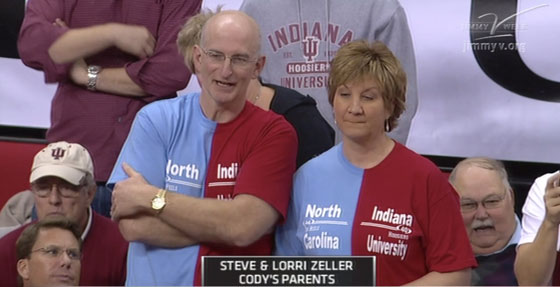 Thoughts on an 86-75 win over N.C. State:
Christian Watford and Verdell Jones were dribbling into traffic and turning the ball over. C.J. Leslie was blocking Cody Zeller. The Hoosiers were failing to get the free-throw line and ball movement had disappeared.
You could feel it slipping away as Tom Crean called timeout with his Hoosiers facing a seven-point deficit at the 7:43 mark in the second half.
But they punched back.
Victor Oladipo, who was quiet most of the night due to foul trouble, rose to the occasion. He slashed to the basket for scores off the left wing. He got out and transition and received a flagrant-1. He hit free throws. And with four fouls, he showed no fear in picking up a fifth, blocking Lorenzo Brown's shot at the 4:17 mark and recording two steals — the last of which he highlighted with a reverse slam with 20 seconds to go. The sophomore's energy has been so crucial to the ebb and flow of Indiana's games this season. Tonight, on the ropes, they needed him in a big way. And he delivered.
Cody Zeller was there, too. Early in the second half, Indiana looked to feed him the ball early and often. But in a hostlie road environment,  Zeller, well, looked like a freshman. He sped up his game; he tried to do a little too much. But there he was in those final few minutes scoring around the rim. A dunk, a lay-up, a put-back off an Oladipo miss. He hit two free throws in the closing minutes, too. In the end, it was another efficient shooting night for the Washington native (8-of-14 for 19 points), as he also ripped down nine boards.
Jordan Hulls. He made the difference tonight, too. After getting off to a red-hot start and being one of the few players this evening to look competent in one-on-one situations, Hulls hit a key three at with 1:45 to go to put IU up four that just about sealed the deal. He also hit four free throws in those closing minutes and has now hit 52 straight dating back to last season. Hulls finished with 20 points. Impressive stuff.
Had this been last season or the season before or the one before that, it's sayonara for Indiana — likely before they even got down seven at the 7:38 mark.
But we've seen it these first seven games now: This is a different team. A different year. A new energy has risen up from Indiana's soul. They are confident. They have resolve.
The road ahead is long. And it doesn't get any easier from here.
But for the first time in Crean era, Indiana appears ready for the challenge.
QUICKLY …
+ Indiana gave up way too many offensive boards in the first half, as N.C. State registered a whopping 63.1 offensive rebounding percentage. This allowed them a lot of second-chance opportunities. But the Hoosiers did a much better job of keeping Leslie, Richard Howell and C.J. Washington off the boards in the second half. N.C. State only recorded five offensive rebounds and just one resulted in second-chance points — a Leslie putback with 2:37 to go. This was key in keeping the Wolfpack at bay down the stretch.
+ Indiana was losing the free throw battle for most of the night, but during that final stretch from the 7:38 mark to the final buzzer, it made 14-of-16 and beat N.C. State in the free-throw rate battle, 38.3 to 33.3.
Filed to: Christian Watford, Cody Zeller, Jordan Hulls, North Carolina State Wolfpack