What to Expect: North Carolina State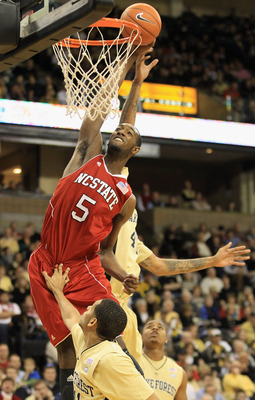 Indiana looks for its first 7-0 start since the 2002-2003 season on Wednesday night when the Hoosiers visit Raleigh for a meeting with North Carolina State in the ACC-Big Ten Challenge.
Here's a look at what to expect from the Wolfpack, who are 5-1 including a neutral court win over Texas:
Winning away from Assembly Hall has been a tall task in the Tom Crean era, but Indiana easily answered the call 13 days ago in Evansville at the Ford Center with a 94-73 rout of the Purple Aces.
Life on the road becomes significantly tougher tomorrow night as first-year head coach Mark Gottfriend leads a talented group inherited from Sidney Lowe in Raleigh. Lowe's failure to take N.C. State to the NCAA Tournament in five seasons resulted in his dismissal and after a lengthy coaching search, the Wolfpack settled on Gottfried.
The hiring of Gottfried by Athletic Director Debbie Yow wasn't particularly popular, but a stellar 2012 recruiting haul and a quick start gives Wolfpack fans plenty of optimism moving forward.
A QUICK LOOK AT THE ROSTER
Sophomore C.J. Leslie (pictured), a McDonald's All-American who considered leaving for last summer's NBA Draft, is the headliner on a talented roster. The 6-foot-8 forward, who missed the first three games after a family member received $410 in impermissible benefits, is averaging 16.7 points off the bench since his return.
Joining Leslie in the front court rotation are 6-foot-8 junior Richard Howell and 6-foot-9 junior DeShawn Painter. Howell, who Basketball Prospectus calls "one of the more intriguing breakout candidates in the whole country," has 19 offensive rebounds in six games. Painter is shooting close to 55 percent and is averaging 6.2 rebounds. Both players are scoring in double figures.
Back court depth is more of a question mark, but a pair of starters, 6-foot-5 sophomore Lorenzo Brown and 6-foot-6 junior Scott Wood, return. The Pack believed they had their point guard of the future in Ryan Harrow, but he opted to transfer to Kentucky after Lowe's dismissal. Brown, who started 26 games as a freshman, is the point guard and through six games, he's dished out 39 assists to just 18 turnovers. Wood, a Marion native, is one of the better 3-point shooters in the ACC.
POMEROY PREVIEW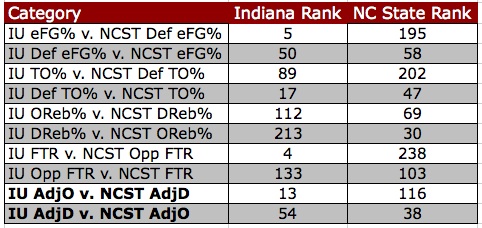 The KenPom.com numbers show one glaring area of concern for Indiana — rebounding. The Hoosiers should be able to score the ball (three N.C. State opponents have already broken 70), but can they keep Leslie, Howell and Painter off the offensive glass? It bears watching and is likely a concern as the IU staff prepares for this game.
To date, the points per possession shake out this way: Indiana is scoring 1.23 points per trip and giving up just 0.86 while N.C. State is scoring 1.13 points per trip and allowing 1.01. The Wolfpack, however, have played two top 50 type teams in Texas and Vanderbilt.
QUICK FACTS ON NORTH CAROLINA STATE
Arena: RBC Center (19,722)
Student Enrollment: 33,000
Established: 1887
Notable Sports Alumni: Bill Cowher (former Pittsburgh Steelers coach and CBS Sports NFL analyst), Philip Rivers (San Diego Chargers quarterback), David Thompson (former No. 1 overall NBA Draft pick and Hall of Famer), Nate McMillan (Portland Trailblazers head coach), Vinny Del Negro (Los Angeles Clippers head coach).
Filed to: North Carolina State Wolfpack