Hoosiers face toughest test yet at N.C. State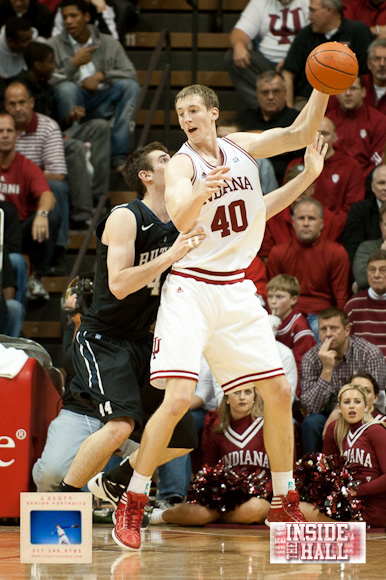 Indiana faced and easily passed its first road test of the season on Nov. 16 at Evansville.
But that game was only a couple hours away from Bloomington against a team with inferior talent.
When the Hoosiers (6-0) travel to North Carolina State (5-1) for a 7:15 p.m. tip Wednesday night in the Big Ten/ACC Challenge, the test will be much stiffer.
"I don't think we will have 2,000 people from Washington, Ind. at this," Indiana coach Tom Crean said Tuesday, referring to the fans from Cody Zeller's hometown who made the trip to Evansville. "It will be different, but it's good. The Big Ten is like that. … We're going to have to play. Let's go see where we stand and let's go in there knowing the task is high."
The Wolfpack feature remarkably balanced scoring, with six players averaging at least 10.2 points per game. C.J. Leslie, a former McDonald's All-American, is the leader of the group.
After contemplating a move to the NBA after last season, the 6-foot-8, 206-pound Leslie opted to return to school. He missed the first three games of the season due to suspension, but has averaged 16.7 points per game off the bench in the last three – including a season-high 20 points in N.C. State's only loss to No. 19 Vanderbilt on Nov. 19.
Leslie likes to attack the rim and rarely settles for an outside shot. He hasn't attempted a 3-pointer this season. He also uses his length to his advantage defensively as he has recorded seven steals and blocked seven shots in three games.
"It's very hard to prepare for that. It's like preparing for a 6-foot-8 Victor [Oladipo]," Crean said. "His second and third efforts are tremendous. His first effort is very good, his first step is very good, but it's the second and third effort from him that I think separates him. … You have to constantly be aware of him."
Richard Howell (13.7 points, 8.8 rebounds), Lorenzo Brown (13.2 points, 6.5 assists), Scott Wood (11.4 points), DeShawn Painter (11 points, 6.2 rebounds) and C.J. Williams (10.2 points, 4.2 rebounds) also average in double figures for the Wolfpack.
N.C. State has scored 80 or more points three times this season, and the Wolfpack beat Texas 77-74 on a neutral court.
Crean said he's concerned with N.C. State's offensive explosiveness, but he's even more worried about the Wolfpack's ability to rebound. The Hoosiers are ranked just 213th nationally in defensive rebounding percentage, and N.C. State has more size than any team Indiana has played to date.
"We've got to rebound the ball better, there's no doubt about that," Crean said. "We've got to block out better. … If you don't make first contact, that's a problem. Well in this game if you don't make first contact, they will jump over you, and that's something this team hasn't seen yet."
Filed to: North Carolina State Wolfpack, Tom Crean