What to Expect: Gardner-Webb
Indiana will look to open the season 5-0 for the second straight season tonight in Assembly Hall against Gardner-Webb. It's the first meeting between the schools.
Here's a look at what to expect out of the Bulldogs, who finished last season 11-21 and are projected to finish last in the Big South by Basketball Prospectus:
The "guarantee game" portion of the Indiana schedule rolls along this evening as the Hoosiers welcome Gardner-Webb for the Hoosier Invitational. And if the numbers bear out as expected, this one could be over quickly.
Gardner-Webb is likely the third weakest opponent on the schedule and their top player from a season ago, Jonathan Moore, graduated. A pair of newcomers, Wofford transfer Jason Dawson and freshman Max Landis, are the only two Bulldogs averaging in double figures through four games. Landis, a 6-foot-1 guard, is an Indianapolis native.
Laron Buggs, a senior guard, will likely start in the backcourt with Dawson and Landis. Buggs shot just 31.5 percent from 3-point range last season.
Up front, junior Stefon Johnson is one of the best in the Big South on the defensive glass, but doesn't offer much offensively. Mike Byron, a 6-foot-11 sophomore, will likely draw the assignment of checking Cody Zeller.
POMEROY PREVIEW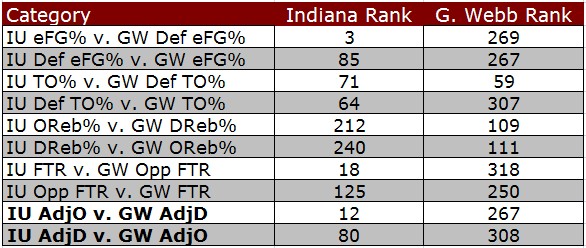 It's tough to glean much from such a small sample size, but this graphic gives a pretty good indication of how both teams have performed thus far.
The Hoosiers have one of the country's best and most efficient offenses through four games and Gardner-Webb's defense, a strong suit last season, isn't so strong early on this season (with the exception of the defensive turnover percentage).
Two things to keep an eye on: Can Indiana continue getting to the line at such a high rate? And if the Hoosiers fail to continue their hot shooting start, will they break through on the offensive glass against a team that prides itself on defensive rebounding?
QUICK FACTS ON GARDNER-WEBB
Student Enrollment: 4,300
Established: 1905
Notable Sports Alumni: Artis Gilmore (former NBA All-Star)
Filed to: Gardner-Webb Bulldogs