Notes and Quotes: Crean talks Stony Brook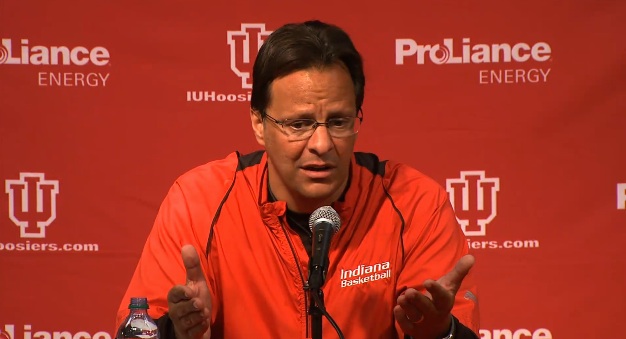 Notes and quotes from Tom Crean's Thursday press conference previewing Indiana's season opener against Stony Brook on Friday at Assembly Hall. Watch the press conference here. (Photo: Crean talks about Maurice Creek's season ending injury on October 12.)
— Wants to challenge the team by playing a team like Stony Brook to open the season. This is a team that has a chance to make the NCAA Tournament. (Picked to finish in the top three of their conference by most publications and a top 150 team according to KenPom.com.)
— Stony Brook is deep and returns their all-around best player. Believes the America East is an outstanding league with very good coaches.
— From his time in Big East gained a lot of respect for programs like Stony Brook. IU played Boston University a few years ago (also in the America East) and on any given night teams from this league can win.
— "We're going to be tested as much as we have in our time here in openers and as much as any that I've been a part of as a head coach."
— "They play hard and everything that I can see they're not a team that's going to ever back away from anything."
— "Really, really good 3-point shooting team. Just solid all the way around."
— "It'll be fun to have the opener here. It'll be fun to have a great crowd. But they'll be nothing fun about that game when it comes to playing and coaching. It will be an absolute battle."
— Stony Brook has Wisconsin tendencies in that they have a style and pace they want to play. They are good at their style of play. Spread the floor, set a lot of ball screens, good movement, run their break.
— Feels like Stony Brook is a deep team that will play nine or ten. Doesn't see a huge drop off when they go to the bench.
— "They do a great job of spacing to the corners."
— They will mix up defenses between 2-3, 1-3-1 or man-to-man.
— "If you don't move bodies and not just the ball, it really allows them to stay in really, really good rotation."
— "We knew it when we scheduled it …This is going to be a really physical game. I'm not sure we're ready for that. And we're going to find out."
— Not sure on a starting lineup, but has a couple in mind.
— "We're at a point where we have six starters and maybe a seventh knocking on the door based on the last couple weeks of practice."
— Tom Pritchard and Christian Watford are good, but not great in terms of their fitness.
— "Tom has gotta keep facilitating so many different things when he's in the game."
— Most important thing for Pritchard and Watford heading into tomorrow is defensive rebounding because Stony Brook won't put a guy on the floor who can't score.
— "There's a lot of our offensive sets that aren't even close."
— Doesn't feel like timing and rhythm is there yet offensively. Need to move the ball and stay active defensively.
— "Tomorrow night will be a challenge of tempo and we've got to make sure we can get out and play. And if they take the initial part of the break away, that we don't just stop, that we keep playing."
— Spending a lot of time on how to utilize Cody and Christian this week.
Filed to: Stony Brook Seawolves, Tom Crean