Notes and Quotes: Crean's postgame press conference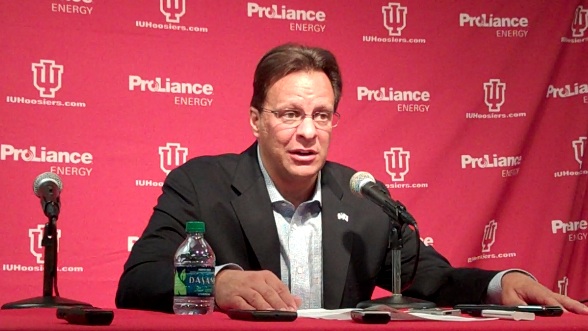 Notes and quotes from Tom Crean's postgame press conference following IU's 90-72 exhibition win over the University of Indianapolis at Assembly Hall (Watch the full press conference here):
— "We're trying to get this team to understand we've gotta get out and play a 94-foot game. It doesn't mean we have to press the whole game, but it does mean we want to run and we want to create off our defense."
— "We're trying to get to a point where there's not a big drop off from our first ten possessions to our last ten. That's hard to get to."
— Doesn't see this being a seven or eight man team. Wants to play a lot of people, but those who play need to be efficient.
— Right now team defense is going to carry this group, but down the road individuals need to be able to lock opponents up. Not there yet.
— On Zeller: "I thought he was really, really good tonight at letting the game come to him."
— On Watford: "I was really happy with the way Christian guarded. He didn't have a great offensive night and we're trying to get him integrated back because he's been out for a while. And he's really only had a couple of practices that I would say are 'Christian Watford level play' practices. But he came in tonight and he defended."
— Still struggling with how much pressure to put on and how physical to be on defense. A lot of room for growth.
— On Hulls: "He's going to have to make those same plays and decisions when people put lock-up guards on him. They didn't do that."
— On Sheehey: "The pull-up is efficient. The offensive rebounding is not there right now. And it's going to have to be."
— One thing that will be a separator is individual efficiency rebounding the ball. "When are you rebounding the ball? One every x-amount of minutes is going to be really, really important."
— "It's not about the minutes that you play, it's about what you do inside the minutes you play. It's the efficiency of the minutes."
— "For so long, the easiest thing to do at Indiana was to play in the games. And that's not it anymore."
— On offense: "I thought we didn't attack as much as we should have. I like the fact that we didn't have very many turnovers."
— Staff will put offensive sets in as the season goes. Was putting things in during timeouts and the players executed those well.
— "We did not attack on the break, attack on press offense. I put two press offenses in this morning. We're behind. That's what I'm talking about when I say we're behind offensively. There's a lot of things we haven't spent any time on. But if we move the ball, share the ball, put it in reverse, then good things can happen."
— On Pritchard getting chippy and picking up a technical: "I don't want that. I don't want that at all. That's not real hustle. I addressed that with him. I love Tom Pritchard. But I don't want that. That's not real toughness to me. Tom Pritchard's too valuable to be getting a technical. I'm not going to tolerate that. That's why he didn't play the rest of the half."
— Got hurt early on weak side defense because the players relaxed and gave up some back cuts.
— "There's a new grading system that we've put in that really takes into account not just what happened on that possession for the five guys that were there, but how the five guys contributed to it positively or negatively."
— "As we build this and bring even more talent to the program, it's going to be competitive to play. That's what the great teams have. The great teams are deep. You're not deep unless you have consistency. You're not deep unless you don't have a big drop off when you go to the bench."
— Players respected each other in past, liked each other, but isn't sure there was respect for each other's games. That respect comes from competing against each other tooth and nail in practice.
Filed to: Tom Crean, University of Indianapolis Greyhounds