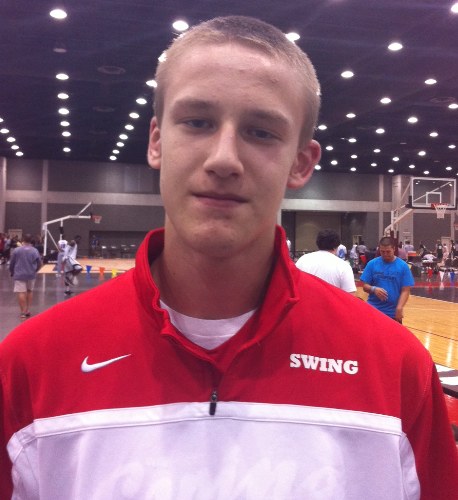 In the coming weeks, we'll be profiling some of the prospects on Indiana's 2013 recruiting radar.
We kick off the 2013 intros today with Germantown (WI) forward Luke Fischer, who is expected to visit Bloomington for IU's game with Ohio State on Dec. 31.
Essentials: 6-foot-9, 210-pound forward from Germantown, Wisconsin. Plays AAU with Wisconsin Swing.
Schools: Boston College, Creighton, Dayton, Drake, Indiana, Iowa, Marquette, UW-Green Bay and UW-Milwaukee have offered scholarships. Butler, Stanford, Virginia Tech, Wake Forest, Washington State and Wisconsin have expressed interest.
Numbers: 11 points and seven rebounds per game as a sophomore at Germantown High, which finished last season 23-2.
Rankings: Scout.com ranks Fischer a 4-star prospect and No. 96 overall in the 2013 class. Rivals.com ranks Fischer a 3-star prospect and No. 140 overall in the 2013 class. Fischer is a 2-star prospect according to ESPN.com.
Fischer on where Indiana stands in his recruitment: "They would be high up (on my list). I enjoy going there. It feels like a great place to play. I don't think you can get much better than Assembly Hall and the past that they have had. And hopefully, a good future, too."
Fischer on the strengths of his game: "Probably the post game is my favorite. Jump hooks. I'm looking to face up more and take jump shots when I'm open. I'm really evolving my game to the outside."
Scouting Notes:
"The whole puzzle isn't put together yet for Fischer, but all the pieces are there and he has the chance to be a very good player down the road. Fischer can step out and hit the three, rebound, block shots and showed competence down in the paint, where he scored on a nice looking hook. He has to keep adding strength and improving his skill level but the potential is definitely there." – Josh Gershon of Scout.com on Fischer in July.

"Fischer was a player who really stood out during the high school year, and it is easy to see his potential. At 6-foot-9 with long arms, Fischer runs the floor, has a decent touch with either hand, and is a good athlete. Still he didn't have a great game, though there were flashes. He needs to be tougher finishing through contact and on the glass. Consistency has been an issue with Fischer, but all the tools are there for him to be a big time player." – Brian Snow of Scout.com on Fischer in April.
Highlights:
Filed to: Luke Fischer