Etherington looking to prove he's more than a shooter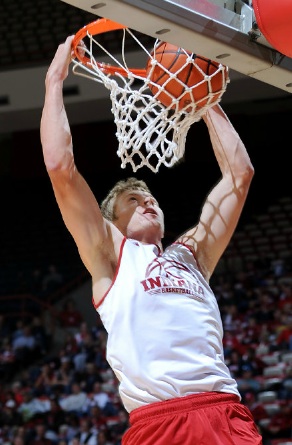 Austin Etherington built a reputation at Hamilton Heights as one of the best prep shooters in the country.
But as he closes in on the tip-off of his collegiate career, the freshman wing is out to prove he can contribute in a multitude of ways.
"I know people thought that I could only just shoot," Etherington said. "I just go out and try to prove to everyone that I can play defense, cut to the basket and create shots for everyone else, too."
All of those attributes were on display at Saturday's "Haunted Hall of Hoops" scrimmage. Etherington scored 10 points, grabbed five rebounds and played solid defense for most of his 27 minutes of action.
The freshman from Cicero, Ind. knocked down two 3-pointers, had a steal and breakaway dunk and also completed a tough left-handed layup over Cody Zeller.
"Austin shot the ball really well," assistant coach Tim Buckley said following the scrimmage. "I think the biggest thing for him, and younger guys in general, is playing through fatigue, playing through mistakes. But he has the ability to stretch the floor for us and shoot the ball."
One of the biggest adjustments for most freshmen is the speed of the college game. With a couple of weeks of practice under his belt, Etherington said he's getting accustomed to the quicker pace.
"It's definitely a different pace. That's one thing I've had to get used to," he said. "It was at a speed that I've never played at before. I feel like now I'm starting to get into the rhythm and starting to find my game more."
Assistant coach Steve McClain said he can see Etherington becoming more comfortable as he adjusts to things happening quickly around him on the floor.
"Young guys go through a growing process where everything's coming at them so fast, their mind is just spinning," McClain said. "Now for Austin, I think it's starting to slow down. He can see the game, he can see where his shots are going to come from. It's allowing him to get there and be able to know, they're going to get it to me when I'm wide open and all I've gotta do is step up and make it like I've done my whole career."
As Indiana prepares for its first test of the season on Saturday in an exhibition game against the University of Indianapolis, Etherington believes increased familiarity with his teammates is a key moving forward.
"I just feel like as a team we look a lot better," he said. "We've just gotta keep playing together and getting used to each other. That's a key, getting used to playing off each other."
(Photo credit: IU Athletics)
Filed to: Austin Etherington