IU coaches, players talk about progress on defense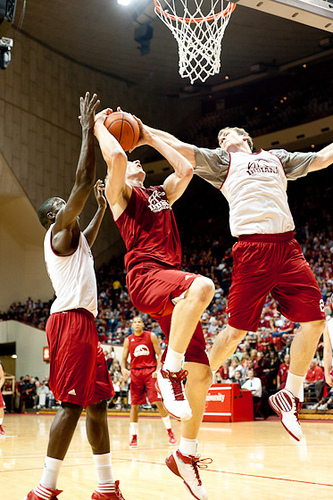 Cody Zeller's arrival is garnering many of the national focus on this season's Indiana team, but a substantially improved defense appears to be the key for the Hoosiers to climb out of the Big Ten cellar and into postseason play.
Indiana's defensive numbers from a season ago leave plenty of room for improvement: In Big Ten play, the Hoosiers ranked 10th in defensive efficiency, 9th in effective field goal percentage defense and 11th in defending the three.
IU's opponent free throw rate, which was the highest among any BCS conference team last winter, must also improve.
With just five days until the Hoosiers tip off exhibition play at Assembly Hall against the University of Indianapolis, here's a rundown of what the coaches and players are saying about defense:
Head coach Tom Crean on specific players setting the bar defensively:
"Improvement-wise? Verdell Jones. Consistency-wise? Victor Oladipo. We got to get a bunch of guys that improve to the rate of Verdell. We've got to get a bunch of guys that have the rate of consistency defensively that Victor does. And Victor has to raise his standards consistently. Will [Sheehey] is getting closer to that. And what they need to understand is that team defense is such a difference-maker. And what we're trying to get all of them to understand is that when you're not guarding the ball, you're always responsible for at least three things and you can not rest. You can not rest off the ball, you can not rest when the shot goes up, you can not rest on the weakside, you can not get hugged up on your man on the weakside … You can point out to any possession on the court, there's one person guarding the ball, there's four other people in a defensive position, there's at least three things that they have to be responsible for. So the point being that that altertness, that awareness — all those things have got to play into it. And that's what we're looking for consistency-wise and improvement-wise."
Assistant coach Tim Buckley on how the team responded to a challenge from Crean to step up the defense in the second half of Saturday's Haunted Hall scrimmage:
"In order for our team to have the success we want to have, they've got to play together on both ends of the floor. I think sometimes any team can get caught 'playing defense,' but you have to get stops. That's what your intent is, to get stops and when we do that and have that focus, we play much better as a team defensively."
Assistant coach Steve McClain on where the Hoosiers currently are as a team defensively:
"I don't think you're ever where you need to be defensively. You could play 32 games and watch the film and say 'we could be better in these areas.' But it's something we're stressing every day in practice that we've got to continue to build on and grow at and be better at. There's no question, you watch us and our weakside is way better, we're rotating, we're getting there. It's not close to where we need it to be yet."
Junior forward Christian Watford on his outlook for the team defensively:
"I think we can be a great defensive team. With Cody (Zeller) in the middle, Cody and Tom (Pritchard) can step in and play some defense. That's all going to help us in the long run. Our intensity definitely is going up. Our competitiveness is going up since last year. Everybody wants to play. We come in here and we get after each other."
Senior guard Verdell Jones on the importance of defense:
"I think our defense has created a lot of offense for us right now. We're really pressuring the ball, getting turnovers on each other. You're not going to play good on offense every single day, but if your defense is still there, you're always going to be in the game so I think that's the biggest thing everyone's keying on right now."
Sophomore guard Victor Oladipo on how Indiana will be different as a team defensively from last season:
"(We can) definitely guard the ball better. We're working on that every day, getting over screens. Just becoming a better defensive team period all around. Help side defense, strong side defense, everything. We work on defense a lot in workouts and we need to carry it over to the game. Without defense you can't win games. Like the old saying, it's really true. We've just got to be consistent in defense and offense. And consistent in listening to the coach and what he has to say."
Filed to: Christian Watford, Tom Crean, Verdell Jones, Victor Oladipo