Hoosier Hysteria officially set for Saturday, October 15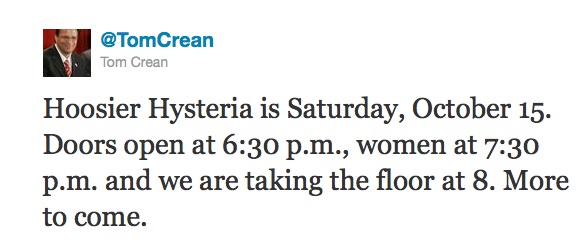 Admission is free, but you're encouraged to bring a non-perishable food item. Complete details from IU Media Relations after the jump.
The Indiana University Athletics Department will hold its annual Hoosier Hysteria presented by Smithville on Saturday, October 15 in Assembly Hall. The event will feature the IU men's and women's basketball teams. Doors open at 6:30 p.m., the women's team will take the floor at 7:30 p.m. and the men's team will follow at 8 p.m.

"Our players and looking forward to this event each year.," said IU men's basketball coach Tom Crean. "Any time we can go out and play in front of a packed house at Assembly Hall, it makes a lasting impression on everyone involved."

Details of each team's appearance are being finalized as are the names of some special guests for Hoosier fans and will be released prior to the event. The varsity shop in Assembly Hall will be open at 6:30 p.m. Team members are expected to be available for autographs at the conclusion of the evening. Admission is free but fans are encouraged to bring a canned food item which benefits the Hoosier Hills Food Bank.

"We are excited to be a part of it.," said IU women's basketball coach Felisha Legette-Jack. "What better way to start the year than have so many fans rooting you on. We have a group of young ladies that are going to work hard and give everything they have for this program and this institution, and we hope all of those attending Hoosier Hysteria will come out and support women's basketball this season."

For Crean, the move to Saturday night will hopefully allow many to visit Assembly Hall and Cook Hall for the first time.

"One of the things that I enjoy most, is to meet families who come to a game or this event with their children and expose them to IU basketball for the first time," said Crean. "Our hope is that we will have a lot of first time visitors, who when they experience this event with all of the long-time loyal students and fans, become Hoosier fans for life."

Student season tickets remain on sale and a Holiday Mini Series for the general public, which includes home games with Ohio State and Michigan, also are available. For ticket and event information, call 1-866-IUSPORTS or visit IUHoosiers.com.
Filed to: Hoosier Hysteria