2011-2012 Big Ten Preview: Top non-conference games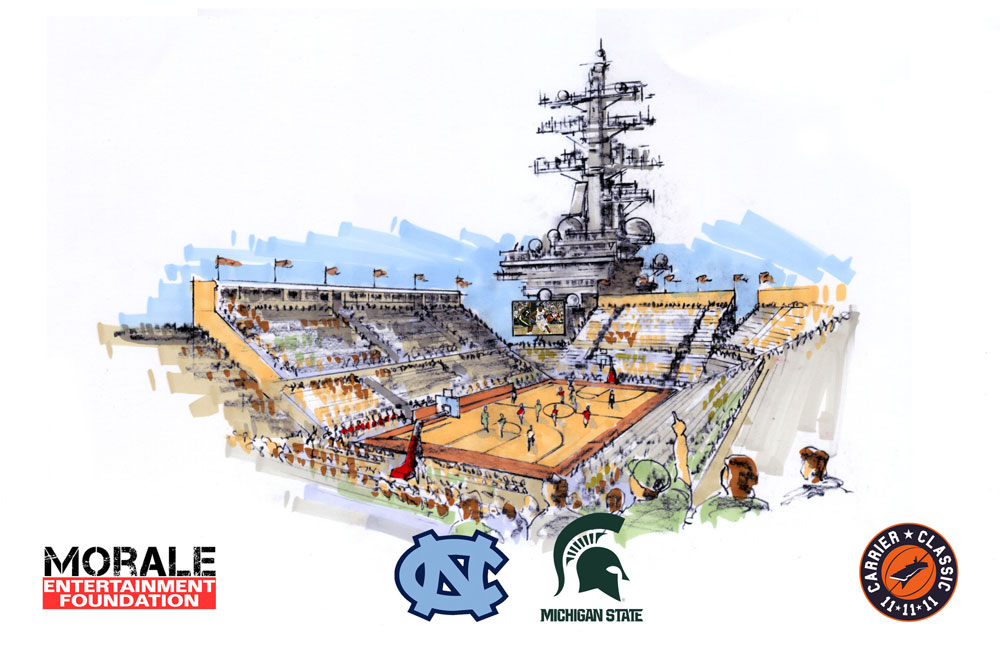 We continue our 2011-2012 Big Ten preview today with a look at seven non-conference games, listed in no particular order, that you'll want to mark on your calendars as must see.
Michigan State vs. North Carolina on Friday, November 11
Event: Veteran's Day Carrier Classic at San Diego Bay
TV coverage: ESPN
Two of the top programs from the past decade will square off in front of 7,000 on an aircraft carrier to celebrate Veteran's Day. Not only will it be the first game of the season broadcast on ESPN or ESPN2, it will be the most unique setting for a college basketball game ever.
Michigan State vs. Duke on Tuesday, November 15
Event: Champions Classic at Madison Square Garden
TV coverage: ESPN
After opening against what will likely be the country's No. 1 team in North Carolina, Tom Izzo and the Spartans will head east to MSG for a meeting with top ten Duke. It's an ambitious non-conference start for a program that struggled to meet expectations last winter, but Izzo will quickly find out what he's working with by mid-November.
Michigan vs. Memphis on Monday, November 21
Event: Maui Invitational
TV coverage: ESPN2
The Wolverines are the Big Ten representation in Maui and you might not see a larger contrast in styles all season than in this contest. Memphis is loaded with young talent and loves to push the tempo, but failed to take care of the ball last season. Michigan, on the other hand, is far more deliberate and less turnover prone. A win for Michigan could set up a rematch of last year's NCAA Tournament meeting with Duke.
Butler at Indiana on Sunday, November 27
Event: Hoosier Invitational
Television coverage: Big Ten Network
After two consecutive trips to the national championship game, Brad Stevens and Butler will come to a hostile environment in Assembly Hall that will only be amplified by IU's addition of Cody Zeller. Neither team will be ranked, but the atmosphere will be electric in what should be a nip-and-tuck game.
Duke at Ohio State on Tuesday, November 29
Event: Big Ten/ACC Challenge
Television coverage: ESPN
This meeting between a pair of top ten teams will be loaded with several intriguing matchups. Will Aaron Craft be able to contain Austin Rivers? How will the Plumlee's handle the brawn of Jared Sullinger down low? And will Duke have a defensive answer for the versatile William Buford?
Wisconsin at North Carolina on Wednesday, November 30
Event: Big Ten/ACC Challenge
Television coverage: ESPN
Bo Ryan's Badgers will be tasked with containing a North Carolina frontline featuring three future first round NBA draft picks in James McAdoo, John Henson and Tyler Zeller. Oh, and Harrison Barnes, a lock for the lottery, is back in Chapel Hill as well.
Ohio State at Kansas on Saturday, December 10
Television coverage: ESPN
The Buckeyes and Jayhawks kick off a home-and-home in one of college basketball's best atmospheres at Allen Fieldhouse. Kansas will be rebuilding following the loss of the Morris twins, but the Jayhawks have lost just one game at the Phog in the past four seasons under Bill Self.
Filed to: 2011-2012 Big Ten Preview