Wapahani guard talks Indiana, upcoming visit schedule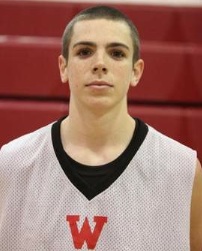 2014 Wapahani guard Grant Evans grew up following Indiana basketball and the sophomore has gained even more familiarity with the program Tom Crean is rebuilding after taking two unofficial visits in the last month.
Evans' latest trip to Bloomington, which is roughly 120 miles from his home in Selma, came on Saturday for the Indiana-Virginia football game at Memorial Stadium.
The sophomore left impressed with both Cook Hall and the newly renovated academic center in the north end zone.
"They're definitely top of the line," Evans said. "They are great and Indiana's pretty lucky to have facilities like that."
Another highlight of the visit was the chance to play open gym against several of Indiana's current players and other recruits who were also taking unofficial visits.
"I thought I did pretty well," he said. "Obviously my defense has to get better, but that will come just because I need to get stronger."
After a strong finish to the summer with his Best Choice Elite AAU team at the GRBA National Championships in Fort Wayne, Evans picked up a scholarship offer from Gardner-Webb to go along with a previous offer from Wright State.
A solid mix of high-major and mid-major schools have also expressed interest including Ball State, Belmont, Butler, Cincinnati, Penn State, Purdue, Michigan, Minnesota, Wisconsin and Xavier.
Evans, who averaged 20.7 points and 5.2 rebounds per game as a freshman, said he'll use the next month to squeeze in more unofficial visits before his high school season begins.
"This week I'm going to be going to Ball State sometime," he said. "I think Thursday I'm going to be going to Butler. Saturday, I'll be going to Michigan to their football game. And then on the 23rd and 24th, I'm going to Wisconsin and Minnesota. In October, the 15th, I'll be heading to Purdue for their first practice."
Although things are still early in the recruiting process for Evans, he already has an idea of what he's looking to find at the next level.
"I'm going to be looking at the school that will be the best fit for me," he said. "Where I'd be able to come in, get some playing time and also be the best fit for me academically."
Filed to: Grant Evans