Trevon Bluiett recaps Saturday visit to Bloomington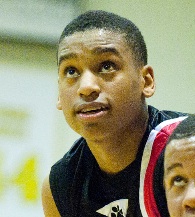 Indiana's football season opened on Saturday at Lucas Oil Stadium, but in the hours before kickoff back in Bloomington the basketball coaching staff was busy hosting a prospect near the top of the program's wish list for the 2014 class.
Trevon Bluiett, who helped lead Park Tudor to a state championship last spring, took an unofficial trip to the IU campus and came away impressed.
"It went real well, really well," Bluiett told Inside the Hall on Tuesday. "We went up there Saturday evening. All of the coaches were there. We just sat around the conference table and he (Coach Crean) was just telling me how important it was to get me to come to Indiana and how important I am."
The 6-foot-5, 190-pound forward, who led all scorers with 21 points in the Class 2A title game as a freshman, said he was appreciative of the staff's message during his visit.
"I just thought that felt good that even though they have a lot of commits, how they still care for me to come there," he said. "That meant a lot."
Indiana was the first school to offer Bluiett a scholarship last September and the Hoosiers already hold commitments from a pair of his Spiece Indy Heat AAU teammates, James Blackmon Jr. and Trey Lyles.
The Park Tudor sophomore said he keeps in regular contact with Lyles and added that he could see himself playing with both guys in college.

"I would definitely love to play with them at the next level," he said of Blackmon Jr. and Lyles. "That's how good of teammates they are."
With three years remaining in his high school career and over two until he can sign a National Letter of Intent, Bluiett has time to consider all of his options, including offers from IUPUI, Purdue and Xavier. But even at this early stage of his recruitment, it's clear that the direction of the IU program holds a level of intrigue.
"I think it's going to go uphill from here," Bluiett said. "They've got a lot of 2012 commits. I think they're ranked second in the country for the best recruiting class. I think it's definitely a positive thing and they just keep adding on class after class."
Filed to: Trevon Bluiett