Around the Big Ten: Significant additions, departures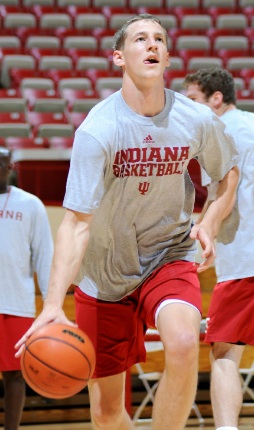 With the start of the fall semester underway and just six weeks until the official start of practice, it's time to begin looking ahead to the 2011-2012 season. We'll begin with a Big Ten breakdown of the most significant addition as well as the most significant departure at each school.
Illinois
— Addition: Sam Maniscalco arrives in Champaign as a transfer from Bradley with immediate eligibility. The Chicago native should get the first crack at taking over the point guard reigns. The six-foot guard only played in six games last season at Bradley due to a foot injury, but averaged 13.1 points and 3.4 assists.
— Departure: For all of his inconsistent and at times erratic play, Demetri McCamey was the closest thing the Fighting Illini had to a star on last year's disappointing team. Bruce Weber won't miss the headaches, but he will miss McCamey's production of 14.6 points and 6.1 assists per game.
Indiana
— Addition: On a team that got next to nothing statistically from its frontcourt sans Christian Watford, the addition of Cody Zeller is easily the most significant addition of the Tom Crean era. The fundamentally sound big man is one of the country's most polished incoming post players.
— Departure: The Hoosiers lost only one senior, Jeremiah Rivers, who was a sometimes reliable defender that brought next to nothing offensively.
Iowa
— Addition: Josh Oglesby, a top 150 guard from Cedar Rapids, could give Fran McCaffery a reliable option on the perimeter to help shore up the Hawkeyes woeful shooting (31.4 percent on 3-pointers last season).
— Departure: Melsahn Basabe will carry even more weight on his shoulders up front following the loss of Jarryd Cole, who started all 31 games and led the team in rebounds 12 times.
Michigan
— Addition: The unexpected departure of Darius Morris to the NBA means that Trey Burke, a top 100 point guard from Ohio and former high school teammate of Jared Sullinger, will likely slide in as a starter in Ann Arbor.
— Departure: The aforementioned Darius Morris was the Big Ten's most improved and surprising player a season ago. After starting Big Ten play with a 1-6 record, it was Morris that led the Wolverines on a turnaround that ultimately ended up in the second round of the NCAA Tournament.
Michigan State
— Addition: Branden Dawson is the most heralded of three arriving freshmen, but transfer Brandon Wood, who averaged 16.7 points and was an All-Horizon League selection last year at Valparaiso, will ease the loss of Korie Lucious' dismissal in the backcourt.
— Departure: Kalin Lucas was one of the most successful guards in school history with a national championship game appearance, Big Ten Player of the Year award and 1,996 career points on his resume.
Minnesota
— Addition: Andre Hollins, the 2011 Mr. Basketball in Tennessee and a top 150 recruit, is a skilled guard that should see major minutes in a backcourt with plenty of question marks.
— Departure: Blake Hoffarber, best known for his buzzer-beating shot against Indiana in the 2008 Big Ten Tournament, played more minutes than any other Gopher as a senior and averaged 13.6 points in his final season.
Nebraska
— Addition: JUCO transfer Dylan Talley, who chose the Cornhuskers over LSU, averaged over 22 points last year at Blinn (Tx.) Community College and might be the most ready of four newcomers to contribute.
— Departure: Lance Jeter, a third team All-Big 12 selection as a senior, started all 55 games he played at Nebraska and averaged 11.7 points, 4.5 assists and 4.4 rebounds per game last season.
Northwestern
— Addition: A pair of incoming point guards, Tre Demps and David Sobolewski, will both get a chance to fill the large void MIchael Thompson left in the backcourt.
— Departure: Thompson, who never averaged fewer than 32.9 minutes per game, leaves Evanston first in minutes played, assists and games played and third all-time in points scored.
Ohio State
— Addition: Returnee Aaron Craft will be the Buckeyes' point guard, but Shannon Scott, a McDonald's All-American and Mr. Basketball from Georgia, could end up splitting those duties by season's end.
— Departure: Thad Matta will miss the experience and leadership of David Lighty, who didn't get headlines in Columbus but quietly held together a team that won 34 games and advanced to the Sweet 16.
Penn State
— Addition: Ed DeChellis' exit to Navy means that Patrick Chambers, formerly the head coach at Boston University, will be charged with the responsibility of moving forward a program that's consistently been near the bottom of the conference.
— Departure: The brilliant senior season of Talor Battle led Penn State to the championship game of last year's Big Ten Tournament and the school's first NCAA Tournament berth since 2001.
Purdue
— Addition: Guard Anthony Johnson, a former top 100 recruit from Chicago, takes off the redshirt for the Boilermakers after putting on 15 pounds of muscle in the offseason.
— Departure: Matt Painter will be hard-pressed to replace the production of JaJuan Johnson, who was the Big Ten Player of the Year and Defensive Player of the Year.
Wisconsin
— Addition: Jarrod Uthoff, a 6-foot-8 forward from Cedar Rapids and the 2011 Gatorade Player of the Year in Iowa, arrives with a great deal of length and upside.
— Departure: Jon Leuer finished his career in Madison with 22 career games of 20 or more points and was in the top five in scoring and rebounding in the Big Ten last season.
(Photo credit: IUHoosiers.com)
Filed to: 2011-2012 Big Ten Preview