Patterson talks July, potential impact for 2012 class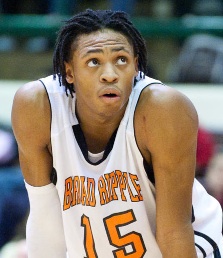 Inside the Hall had a chance to catch up with 2012 IU commitment Ron Patterson on Monday evening as the senior guard begins his final high school season at Broad Ripple.
Here are some notes and quotes from our conversation:
— July's impact: After making the move from Indiana Elite Team Indiana to Indiana Elite One after the spring portion of the AAU schedule, Patterson played in the adidas Invitational and adidas College Coaches Classic in early July and used the rest of the summer to work on his game. "I just felt like I needed to work on my game other than playing (in AAU)," he said of the decision to skip the second July evaluation period. "I've just been doing it off God given talent, I've never really worked (on my game). I think it was beneficial because I'd already committed and I wasn't really hurting or losing anything."
— Recent trip to Bloomington: While the visits of Luke Fischer and D'Angelo Russell made headlines over the weekend, Patterson confirmed that he and two of his future teammates also made the trip down to Bloomington. "It was just me, Jeremy (Hollowell) and Yogi (Ferrell) going down to play in open gym. That's about it. We got in a couple of good runs," he said of the experience.
— Building relationships: One of the built-in advantages for Indiana's 2012 recruiting class is the familiarity that the group will have with one another upon their arrival in Bloomington. Four of the five recruits (Ferrell, Hollowell, Hanner Perea and Patterson) played together this spring and also traveled to the NBA Camp in Charlottesville, Virginia in June. "Our relationships are growing more," Patterson said. "We're learning each other's games, our dislikes and likes, where we want the ball."
— The movement: With all of the accolades and national praise the 2012 recruiting class has garnered, expectations for this group to help lead Indiana back to national prominence are a given. Patterson said he and his future teammates are looking forward to the challenge: "We're going to make a big impact. We're going to make a big run in the (NCAA) Tournament. We're trying to get IU back and rolling like it used to be."
— Final year of high school: Broad Ripple's move to Class 2A for this season might make the potential for a deep March run more likely, but the Rockets will have to deal with Ferrell in their sectional. That hasn't stopped Patterson from dreaming big in his final season. When asked about emerging victorious from Sectional 42 at Broad Ripple, Patterson talked defense as a key: "Not letting Yogi get in his rhythm and beat us." Broad Ripple's goal will be to win a state championship according to Patterson and individually, he hopes to win Mr. Basketball.
Related:
– HD Video: Ron Patterson at adidas Invitational (July 7, 2011)
– HD Video: Ron Patterson at Spiece Run 'N Slam (May 10, 2011)
– Denver Double Pump Video: Ron Patterson Highlights (April 26, 2011)
Filed to: Ron Patterson