Notebook: Individual workouts begin, rankings and more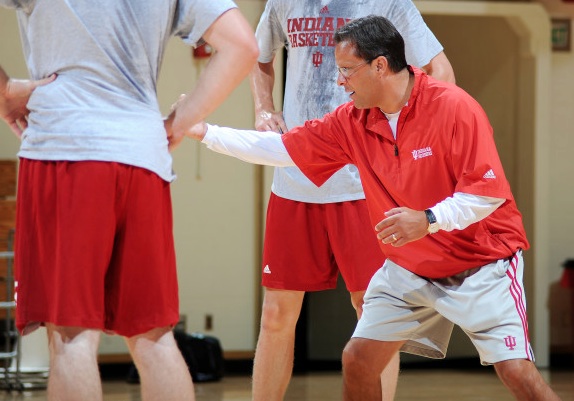 (Photo credit: Tom Crean on TwitPic)
— Individual workouts begin: The start of the fall academic semester on Monday also signaled the start of individual workouts with the IU coaches and players in Assembly Hall. Tom Crean shared the following observations from day one (and also some photos) via his Twitter account:
Some things I liked yesterday after our 1st workouts: Verdell 's strength and finishing, Cody's potential for range on his shot, Austin's jumper, Will's pullup and increased range, Victor's release on his shot and Christian's patience at reading defenders. Jordan was our best % shooter in our tests yesterday and that is no surprise. Maurice goes for the 1st time today. That will be great to see. I loved the way Derek moved and shot the ball yesterday. Having him healthy could make a big difference. He has to develop consistency.
— Rankings, rankings and more rankings: Scout.com revealed team rankings for the 2012 class and Indiana debuted at No. 1. Our friends at UMHoops.com are tracking recruiting efforts across the Big Ten and the Hoosiers also sit atop there. Rivals revealed its top 150 for 2013 and both Collin Hartman and Devin Davis are in the top 100. And finally, Ballin' is a Habit has consensus post-July rankings for 2012 which are an aggregation of Rivals, Scout, ESPN, CBS and 247Sports.
— Better luck? Andy Glockner of SI.com profiled five teams, including Indiana, that found themselves in the bottom 50 of Ken Pomeroy's luck rating, a statistic that measures the difference between a team's actual record and its expected performance based on efficiency ratings. His conclusion? Things are looking up in Bloomington. It should be noted that the Hoosiers were actually 343rd out of 345 teams in last year's Pomeroy "luck" rating.
— Indianapolis-area sophomore forward to visit: Perry Poindexter, a rapidly improving 6-foot-6 forward from North Central, will visit Bloomington next week according to his Twitter account. Butler, IU, Purdue and Xavier have been the schools most involved early with Poindexter, who played junior varsity as a freshman. Expect more unofficial visits from numerous prospects in the coming weeks as the home football schedule kicks off.
— Marrero to the Big East: One-time Indiana target DeJuan Marrero, a 2012 undersized forward from Bowman Academy, committed to DePaul during an unofficial visit on Tuesday. Marrero's first scholarship offer was from the Hoosiers during his freshman season.
Filed to: Dejuan Marrero, Perry Poindexter