Luke Fischer recaps weekend trip to Bloomington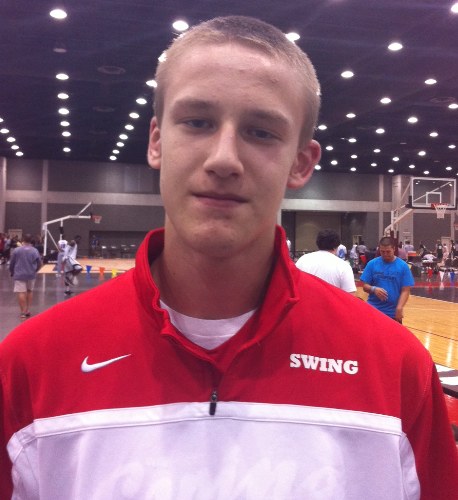 2013 Germantown (WI) forward Luke Fischer checked out Bloomington for the second time on Saturday and the 6-foot-9, 200-pound junior says Indiana sits near the top of his list of suitors.
"They would be high up," Fischer told Inside the Hall by phone on Sunday afternoon. "I enjoy going there. It feels like a great place to play. I don't think you can get much better than Assembly Hall and the past that they have had. And hopefully, a good future, too."
Indiana offered Fischer a scholarship in July and has been aggressive in pursuing the rapidly improving forward who grew up following Tom Crean at Marquette.
On Saturday's unofficial visit, the Indiana staff showed him a recently renovated area of Memorial Stadium's north end zone.
"The newest thing that we didn't see last time is they re-did the academic center," Fischer said. "It's brand new, they just finished it last week they said. So we got to tour that a little bit and we were impressed with it."
Beyond getting more familiar with the campus, Fischer also had a chance to run up and down with some of the current Indiana players.
"It was really cool playing against Cody (Zeller) and Austin (Etherington) and some of those guys," he said. "Obviously they have a couple of years on me, a couple of pounds on me, too. It was a little tough, but all in all, it was a good experience."
Battling with Zeller, in particular, stood out as an eye-opening experience for the Wisconsin native.
"Even in open gym, he was playing real competitive," Fischer said. "That's just what you need to be the best I guess. And that's what he wants to be. Hopefully I can start playing like that too and be where he is."
After his Saturday visit to Bloomington concluded, Fischer checked in with another in-state program about 55 miles to the north that recently entered his recruiting picture.
"We just visited Butler this morning," he said. "We met with Coach (Brad) Stevens and their staff, too. We pretty much did the same thing, went around the campus, talked with them. They seem interested."
Fischer currently holds offers from Boston College, Creighton, Drake, Indiana, Marquette, UW-Green Bay and UW-Milwaukee. He said plans to visit both Boston College and UW-Milwaukee, which recently offered, are in the works for the fall.
With a short break between AAU wrapping up and the beginning of high school practice this fall, Fischer's focus will shift to the weight room.
"I think just getting bigger and stronger," Fischer said about his biggest goal for the fall. "I think I'm still growing, so that kind of sets me back a little bit. But that's also a good thing. I just have to get in there (the weight room) and start getting bigger."
Related:
– HD Video: Luke Fischer at 2011 Kentucky Hoopfest (July 10, 2011)
– Luke Fischer "real excited" about offer from Indiana (July 10, 2011)
Filed to: Luke Fischer