Indiana Class of 2012 Rankings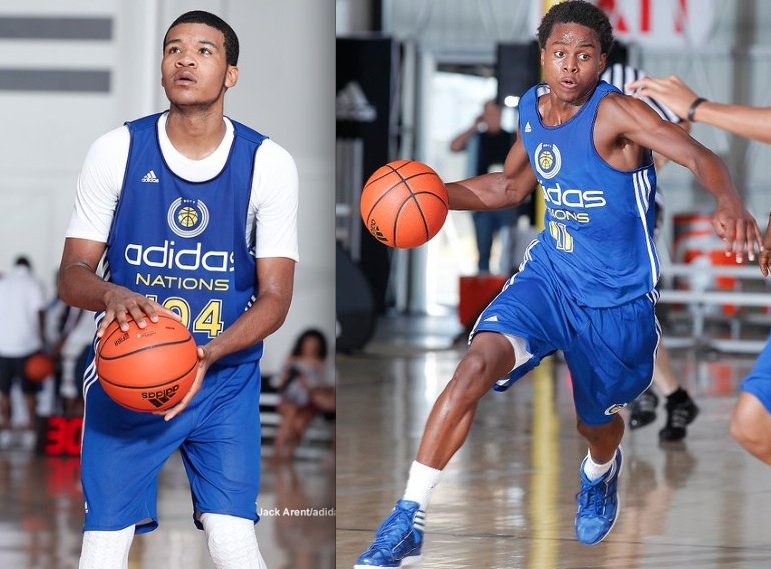 Joe Eberhardt is a recruiting analyst for Inside the Hall and a high school basketball writer in Indiana. He created IndyHSHoops.com. You can follow him on twitter at @IndyHSHoops. (Photo credit: Jack Arent/adidas Nations.)
We conclude our look at the top players in the state of Indiana today with the class of 2012. Only three of our top 15 prospects remain uncommitted. If you have any questions about the rankings, feel free to address them in the comments.
15. RJ Hunter, Indianapolis Pike: A great long-range shooter who can knock down shots off the dribble or the catch, Hunter is committed to play for his father at Georgia State University. The 6-foot-5 wing possesses good length and quickness and is a reliable perimeter defender. Hunter can score off the bounce, and also get to the line where he knocks down free throws at a high rate. His biggest area for improvement is adding strength and bulk, which should help him to improve his defense and ability to finish in the paint.
14. DeJuan Marrero, Bowman Academy: Marrero is an undersized power forward who doesn't let his size hold him back as a rebounder. He will crash the boards against opponents of all sizes and uses his strength, athleticism and high motor to win rebounding battles. Marrero's relentlessness on the offensive glass earns him plenty of trips to the free throw line and second chance points in the paint. He needs to improve his perimeter skills, but there is no questioning Marrero's hard working attitude and production on the glass.
13. Patrick Ingram, Indianapolis North Central: The Iowa-bound guard is great finisher who uses his strength, quickness and athleticism to get to the rim and score down low. The 6-foot-2 guard is also a good defender on the perimeter who uses his physicality to frustrate opponents. Ingram is a solid mid-range shooter, but has a tendency to be streaky from the perimeter and should look to improve his long-range shooting to round out his offensive game.
12. Austin Burgett, Avon: Burgett is a skilled forward who specializes in facing up and knocking down jumpers with range out the 3-point line. He can also take slower big men off the bounce and can get to the rim and score or create contact to earn trips to the foul line. Burgett is an above average athlete which makes him a solid finisher and shot challenger down low. He could look to improve his strength to help him become a more effective low post scorer and defender.
11. Nick Osborne, Muncie Central: Osborne, who recently committed to Loyola (IL),  is a well-built power forward with a great motor. Offensively, Osborne has a respectable shot out to the 3-point line, can crash the offensive glass and score and is a strong finisher against contact down low. He's a solid athlete, which helps him to challenge shots on defense and rebound the ball well against size. One thing Osborne could do to improve his game is working on his low post scoring.
10. Eron Harris, Lawrence North: With strong play this spring and summer, Harris saw his stock rise significantly. He holds offers from Wisconsin and Dayton and will likely travel to both on official visits. Harris' biggest strength is his quickness and slashing ability on the offensive end. He is also a solid passer who will look to get teammates involved if his shot isn't there. He uses his quickness and strength well on the defensive end where he can pester and lock down opposing guards. Harris is a streaky shooter and could look to improve his perimeter consistency.
9. Kellen Dunham, Pendleton Heights: Dunham may be the top shooter in the state as he is able to score using his jump shot in so many ways. He is a threat to work screens to catch and shoot from deep. He can pull-up in transition to knock down the 3-pointer. He will take his man off the bounce and pull-up for the mid-range shot. Or he can get into the lane and score using the floater. Dunham also does a decent job of scoring at the rim, but is also able to earn trips to the foul line where he is one of the state's best. His biggest area for improvement is working on his quickness to help him transition to defending at the college level.
8. Ron Patterson, Indianapolis Broad Ripple: A long, well-built, athletic guard, Patterson's biggest strength lies in his ability to defend the perimeter reliably. Patterson is a bit streaky from the perimeter, but can fill it up when he gets on a roll from behind the arc. He rebounds the ball well from the guard spot because of his athleticism, high motor and 6-foot-10 wingspan. Patterson's biggest area for improvement is his ball-handling and ability to get to the rim consistently in the half court.
7. Rapheal Davis, LaPorte La Lumiere: Davis is a strong wing player who does a nice job of mixing things up as a scorer. He is a solid shooter from deep, but is also a crafty ball-handler and scorer. Davis uses his size and strength to get into the paint and convert tough shots against the defense. He's an above average athlete who can finish above the rim consistently, but could look to improve his consistency on the defensive end.
6. Ronnie Johnson, Indianapolis North Central: A very quick left-handed point guard, Johnson is another player who has really boosted his stock in the last year. He has always been able to penetrate and pass, but Johnson has grown into a fairly reliable 3-point shooter. He has a knack for hitting the floater in the lane which is a shot that opponents of all sizes seem to have trouble defending. The 5-foot-10 Purdue commitment is also a pesky on ball defender who uses his quickness to give opposing point guards fits when trying to get by him. His biggest area for improvement is working in the weight room.
5. Glenn Robinson III, Lake Central: Still improving, Robinson has improved his stock as much as anyone in the 2012 class in the last year. Standing at 6-foot-6, the Michigan commitment has great size and strength, good quickness, and a reliable handle on the ball.. His perimeter shooting has really come along in the last year which makes him a more versatile scoring threat. Robinson is also a good defender as he combines his size, strength, length and athleticism to reliably check perimeter players as well as some opponents in the front court.
4. Hanner Perea, LaPorte La Lumiere: Truly a freak athlete, Hanner Perea can use his leaping ability and length to make an impact on both sides of the ball. He is a dangerous finisher in transition, a reliable rebounder on both sides of the ball and can block and challenge shots down low. Perea needs to work on developing a more well-rounded offensive game, but should be able to make an instant contribution due to his athleticism, rebounding and defense.
3. Jeremy Hollowell, Lawrence Central: Hollowell is likely the most versatile player in the state's 2012 class. He has reliable range on his jump shot past the 3-point line. He can get to the basket off the bounce and score at or above the rim against contact. And he can defend numerous positions, rebound against size in the paint and does a nice job of earning points at the foul line. In the past, questions have been raised about his assertiveness on the court, but his play during the July evaluation period showed coaches and opponents alike that he is capable of playing at a high level consistently.
2. Kevin "Yogi" Ferrell, Park Tudor: Ferrell is a quick lead guard who has a penchant for creating plays for teammates and scoring tough baskets. He is at his best with the ball in his hands where he is able to knock down jump shots off the dribble or get past his man to score at the rim. Ferrell is also an extremely reliable on ball defender because of his quickness and instincts.
1. Gary Harris, Hamilton Southeastern: Harris is a big time athlete who can score in a variety of ways. He has good shooting touch from outside, can score off the bounce in the mid-range and is able to get to the rim and finish against defenders of all sizes. Harris is also a great defender who uses his quickness and length to give opponents fits on the perimeter.
Filed to: Gary Harris, Hanner Perea, Jeremy Hollowell, Ron Patterson, Yogi Ferrell