Inside the Hall Twitter Mailbag: August 25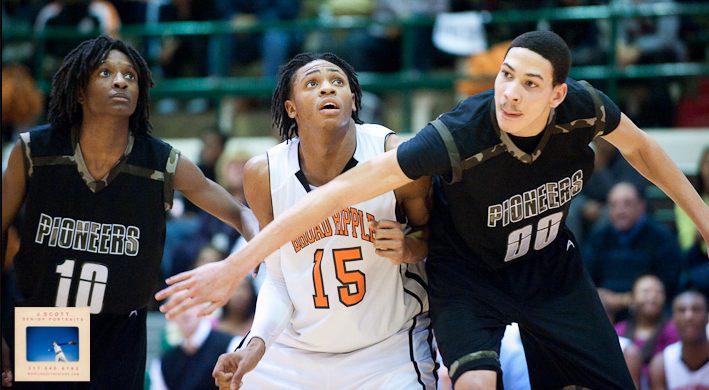 (Photo credit: Jamie Owens of J. Scott Sports)
The Inside the Hall Twitter mailbag is a weekly collection of questions tweeted to us via our Twitter account, @insidethehall. Tweet us your questions each week and we'll answer as many as we can. Now, onward …
@BlastBeezo writes: why is Buss so underrated to all of these recruiting gurus? I can't wait til he's a Hoosier!
Alex Bozich: Recruiting rankings are not an exact science. They never have been and never will be. Ron Patterson started out as a top 50 or 60 prospect when the first national rankings for 2012 were released, hovered around in the bottom quarter of the top 100 for a bit and fell a little bit more in the post-July rankings. Part of the latest tumble might be related to the fact that he didn't play at all in the second 10-day July evaluation period. Has he gotten worse as a prospect? Absolutely not. Remember this: where he's ranked will have no bearing on how successful he'll be in college. Patterson is probably the best defender in Indiana's 2012 recruiting class and his importance in that facet of the game cannot be overstated. If Indiana plans to return to prominence, defense will be pivotal and Patterson can be a big part of it.
@HoosierNationIU writes: Best guess for top 3 leading scorers for 2012-2013 season….
Alex Bozich: It's tough to imagine Cody Zeller not being in the top three. If Christian Watford returns for his senior season, he'll be in there as well. Beyond that, I'll go with Jeremy Hollowell because he's the most versatile scorer of the 2012 group and I believe he'll play major minutes from day one.
@KylejMiller3 writes: who do you think will lead the team in scoring this year? Probably between Oladipo, Zeller, and Watford. I like Oladipo.
Alex Bozich: It wouldn't be a total shock if Victor Oladipo was Indiana's leading scorer, but it would be surprising. Watford has to be the heavy favorite to lead the team in scoring. He did it last year and as our old friend Eamonn Brennan wrote recently over at ESPN.com, he was efficient in doing so. In fact, in Ken Pomeroy's offensive rating statistic, Watford was top 25 in the country last year. I believe he could be even better as a junior as defenses won't be able to key on him as easily with Zeller's arrival.
@caseybaksa writes: I know he has yet to be made media-available, but is there any talk of Creek's rehab progress?
Alex Bozich: All has been relatively quiet on the Maurice Creek rehab front. I wouldn't necessarily read into the silence as being doom and gloom for Creek's future. Obviously, it's a tough road coming back from an injury as significant as Creek's. If there were something concrete I could share at this point, I would, but there isn't. I suspect we'll know more as the start of the season grows closer.
@Quick_Dude writes: hear any updates on Gary Harris? What's your gut feeling?
Alex Bozich: This was easily the most discussed topic in all of the tweets received (surprise, surprise), but the latest update is that Harris and his family continue to let the process play out. In a lot of ways, his recruitment is reminiscent of Zeller's last summer and fall. There is clearly a plan in place and I wouldn't expect any twists and turns. Harris will take his official visits and then make a decision. As has been discussed, the primary contenders are Indiana, Michigan State and Purdue. I don't have a gut feeling on how it will end, but I don't buy the reports that the Hoosiers have fallen behind either of the other two schools. From what I can gather, Tom Crean has done as good of a job as anyone in recruiting Harris.
@hoosierwhodey writes: Who is in your rotation this year if you are TC? Also, for 2012 assuming that GH is not at IU and Watford is?
Alex Bozich: There will be an emphasis on defense this winter in Bloomington, so those that defend and do it with consistency will be in the rotation. No one on Indiana's roster a season ago was an above average defender, but several guys have the capability to blossom into solid defenders. I think plenty of guys will get a shot to play early, but once Big Ten season rolls around, I can see the regular rotation paired down to right around nine players. Since nobody knows if Creek will be back at 100 percent (or close to it), I'd go with Jordan Hulls, Oladipo, Will Sheehey, Zeller, Watford, Verdell Jones, Tom Pritchard, Derek Elston and Remy Abell as the top nine. And on the second question, it's too early to begin speculating on 2012.
@Landon_Howard writes: how many games should IU win this year in bball? And do you think we will make tourney?
Alex Bozich: Without a complete schedule in hand, I'll go with 17 or 18 as the number of games IU should win. The Big Ten will still be a solid league, but it won't be as good as it was last season. They could certainly win more if the defense improves dramatically and the number of fouls committed comes down. If both of the aforementioned improvements occur, Indiana could be in the discussion for its first NCAA Tournament bid since the 2007-2008 season.
Filed to: Twitter Mailbag