Indiana Class of 2013 Rankings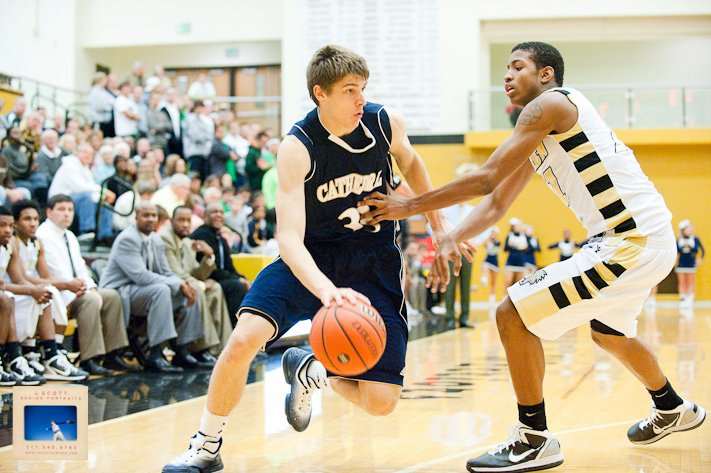 Joe Eberhardt is a recruiting analyst for Inside the Hall and a high school basketball writer in Indiana. He created IndyHSHoops.com. You can follow him on twitter at @IndyHSHoops. (Photo credit: Jamie Owens of J. Scott Sports.)
We continue our run through Indiana class rankings today with the class of 2013. Six of the top ten prospects have already made college commitments including Collin Hartman and Devin Davis Jr. to Indiana. If you have any questions about the rankings, feel free to address them in the comments.
10. Nick Davidson, Andrean: Davidson is one of the better overall shooters in the 2013 class. He is a great threat to catch and shoot from 3-point range, but is improving his ability to pull-up and knock down mid-range jumpers and 3-pointers. The Andrean junior, who has committed to Valparaiso, is also a great free throw shooter and has a knack for getting to the line and converting at a high rate. Davidson knows when to make the right pass and uses his instincts to defend opponents reliably. Two areas Davidson could look to improve are his ability to get to the rim and score and his lateral quickness.
9. Brenton Scott, Ft. Wayne Northrop: Although not as highly touted in recruiting circles as his twin brother, Bryson, Brenton is a strong guard who makes the right decisions. He's not as athletic or great at getting to the rim as Bryson, but has the slight edge as an outside shooter. Scott is also a smart passer who knows when to look for his own shot and when to defer to others. He rebounds the ball well from the guard position and is a willing defender every time he steps on the floor.
8. Zavier Turner, Indianapolis Pike: Turner is a lightening quick guard who excels at getting past his man to score tough buckets. Standing at just 5-foot-8, Turner has good strength and will go up against larger opponents in the paint to finish or earn trips to the foul line. He is also a capable shooter from 3-point range and he's at his best shooting off the bounce in the half-court or in transition. Turner's size can limit him somewhat defensively, but he uses his quickness well to defend on the ball and stay in front of his opponents. Wired to score, one area where Turner could improve is by looking to get teammates involved more consistently.
7. Basil Smotherman, Lawrence North: At 6-foot-6 and 210 pounds, Smotherman is a skilled and athletic player with great size on the wing. He's a solid shooter from deep, but also looks to get things going in the mid-range. A lefty who has committed to Purdue, Smotherman can use his size and strength to get to the rim and score against contact. One area Smotherman could improve is his overall consistency and playing with intensity each time out.
6. Devin Davis Jr., Warren Central: Arguably the hardest working player in the class, Davis can contribute in multiple aspects of the game. He has a great motor, a 7-foot-1 wingspan and good athleticism that helps him function as a great rebounder on both sides of the ball. Davis scores a number of points on the offensive glass by earning second chance points on put backs and by drawing fouls to earn free throw opportunities. He is also a reliable defender who uses his length and athleticism to help him defend players on the wing as well as in the paint. Areas that Davis could improve are his ball handling and shooting consistency from deep.
5. Collin Hartman, Indianapolis Cathedral: Hartman is one of the best long-range shooters in the class. The Cathedral junior can fill it up from the 3-point line and beyond using his soft shooting touch. He is at his best coming around screens to shoot from deep, but is also beginning to improve his pull-up game and shooting off the dribble. Hartman is a capable defender who uses good instincts and above average length to check opponents. One area where he could look to improve his ability to get to the rim and score off the dribble.
4. Demetrius Jackson, Mishawaka Marian: A tough lead guard with great strength and athleticism, Jackson prides himself on his ability to get to the rim and score against contact. He has a great build and isn't afraid to go up against larger defenders to earn trips to the foul line. Defensively, Jackson uses his strength and quickness to stay in front of his man and function as a solid on-ball defender. He's also a solid passer who can dish the ball to teammates on the perimeter as he breaks down his man. Jackson's biggest need for improvement is his consistency as a jump shooter.
3. Zak Irvin, Hamilton Southeastern: Irvin is a smooth operator who makes those around him better, but can also knock down jumpers at a high rate. Irvin is a great mid-range and 3-point shooter who possesses the ability to knock down jump shots off the bounce or the catch when coming around screens. He is also an improving ball-handler with great vision. Irvin is a reliable defender, but should look to add bulk and get stronger to help round out his game before arriving in the Big Ten.
2. Bryson Scott, Ft. Wayne Northrop: Scott, a Purdue commitment, is a heady lead guard who is at his best when attacking off the dribble. He uses a nice blend of strength and quickness to score in the paint or distribute the ball to open teammates. Scott is a good shooter, but can be a bit streaky from 3-point range. The Northrop junior uses his strength and quickness equally well on the defensive end by playing with physicality and staying in front of his man. Scott's biggest area for improvement is his shooting consistency from deep.
1. V.J. Beachem, New Haven: Standing 6-foot-7, Beachem brings size, athleticism and arguably the best shooting touch in the class to the wing position. He also has a reliable handle on the ball and can get to the rim and score or draw contact and get to the foul line. Beachem has the tools of a great defender with great length and quickness. The biggest areas Beachem can improve are adding strength and bulk to his frame and becoming more aggressive when attacking off the dribble.
Filed to: Collin Hartman, Devin Davis