Updates from adidas Nations, Nike Global Challenge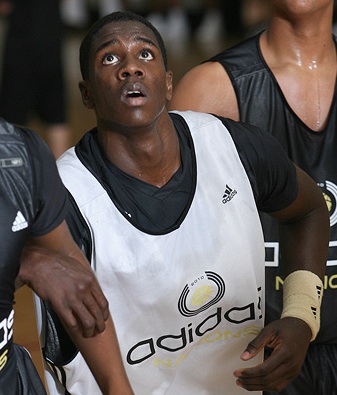 A pair of Indiana commitments — Hanner Perea and Trey Lyles — had successful outings at adidas Nations on Friday in Harbor City, California, while IU's top 2012 recruiting target, Gary Harris, shined in the Nike Global Challenge in Hillsboro, Oregon. Some notes from day one at each event below:
ADIDAS NATIONS
All Friday morning contests at adidas Nations were exhibitions and Lyles' USA Blue 2013 team got the better of Perea's Latin America group, 84-72. According to Michael Barnett, Lyles finished with 14 points and nine rebounds while Perea had 23 points and 12 rebounds.
The teams met again Friday night in their first pool play game and the USA Blue 2013 team prevailed again, 87-85. Lyles finished with four points and three rebounds and Perea had 16 points and six rebounds.
2012 commitments Kevin "Yogi" Ferrell and Jeremy Hollowell, who was a late addition to the event, are expected to participate beginning today. The CBS Sports Network will broadcast an adidas Nations highlight show at noon (ET) on Sunday and will also show the championship game live at 7 p.m. (ET) on Monday.
The adidas Nations schedule is available here.
NIKE GLOBAL CHALLENGE
Harris' USA Midwest team cruised to an easy 103-58 win over Germany and the five-star guard led all scorers with 17 points in just 19 minutes. Harris was 7-of-12 from the field, 3-of-5 from the free throw line and also had nine rebounds, three steals and an assist.
The Global Challenge continues today for Harris as the USA Midwest team will meet the USA West team at 8 PM local time at Liberty High School. USA West, led by 18 points from five-star 2013 power forward Aaron Gordon, beat Puerto Rico 105-74 on Friday.
The Nike Global Challenge schedule is available here.
Filed to: Gary Harris, Hanner Perea, Trey Lyles