R.J. Curington ready to see Bloomington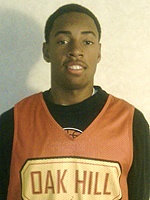 Update: Following his visit, Curington offered the following comment via his Twitter account: " I absolutely enjoyed my visit! It was a great experience. The coaches & IU fans are great & very supportive."
—
The Indiana coaching staff will welcome R.J. Curington to campus for an unofficial visit on Friday morning and the 2013 Oak Hill Academy guard says he's ready for some Hoosier Hysteria.
"When I was younger I went to camp (at IU)," Curington told Inside the Hall. "But I didn't really get to see many of the finer things. I'm expecting to see a lot of the basketball monuments, the practice facility and I'm looking forward to seeing the players also to see how they live on campus."
Curington lists Dyer, Indiana as his hometown, but didn't move to the Hoosier state until he was 10 and enrolled at Oak Hill as an eighth grader. The Mouth of Wilson based boarding school has produced 22 NBA Draft picks.
The adjustment living away from family was initially difficult, but is helping to prepare him for the next level.
"Since it's like a college (at Oak Hill) and with all of the traveling, we'll be somewhere one day and the next day we'll be somewhere else," Curington said. "You've gotta get your homework done and that's how it is in college. I'm just thankful I have the chance to get that early so when I'm in college, I'm not foreign to what I have to do."
The month of July was a successful one for Curington as his C.I.A. Bounce team won the AAU Super Showcase in Kissimmee, Florida. The final game was televised by ESPNU. That exposure only added to a long list of schools that Curington says have expressed interest.
"North Carolina, Wake Forest, Clemson, Harvard, Illinois, Indiana, Purdue, Stanford, Northwestern," he said. "Some new schools are Michigan State, Florida, UCF, Chattanooga and Florida State."
With 15 months to go until he can first sign a Letter of Intent, don't expect a quick decision from the 6-foot-5 guard.
"I'm pretty much wide open right now," he said.
Filed to: R.J. Curington