The latest on LSU transfer Garrett Green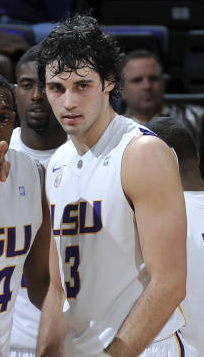 Decision day is looming for LSU transfer Garrett Green, who visited Indiana this past weekend. The 6-foot-11 center said that he'd like to have a decision before Friday, August 5, which is the date he'll graduate in Baton Rouge.
Green told Inside the Hall he also planned to visit Long Beach State, San Diego State and Wichita State and a report in yesterday's San Diego Union-Tribune has shed some light on a timeline for a couple of those visits:
With just eight scholarship players currently on the roster for next season, the San Diego State men's basketball coaches aren't turning blue.

But they might go Green.

Garrett Green, a 6-foot-11 center from Louisiana State, announced last week that he is transferring for his final season and has SDSU among his finalists. He is expected to visit campus Sunday.
According to the Union-Tribune's report, a big part of San Diego State's pitch to Green could be playing time:
He reportedly has been on campus at Indiana and is expected to visit Long Beach State later this week. But one thing the Aztecs can offer that others maybe can't is ample playing time, especially given the uncertainty of 6-11 center Brian Carlwell's application for a sixth year of eligibility. Carlwell's case was forwarded to a secondary committee, pushing the decision into August.
While the lack of personnel on the Aztec roster may very well be a pitch their staff uses, it would come as no surprise if Green was able to unseat Tom Pritchard and slide right in at the five if he opts for Indiana. And based on his comments in his interview with Inside the Hall over the weekend, Green's decision appears to be coming down to the graduate programs available to him first and then basketball.
Filed to: Garrett Green