Q & A: Hanner Perea talks improvement, mindset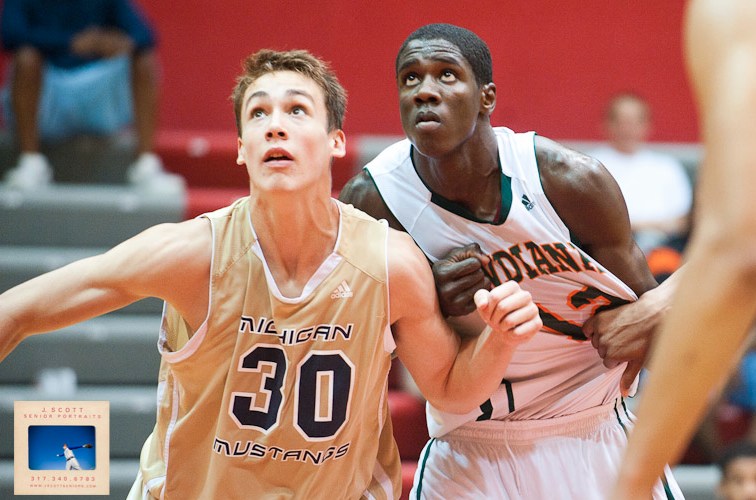 (Photo credit: Jamie Owens of J. Scott Sports)
2012 LaPorte La Lumiere and Indiana Elite power forward Hanner Perea was Tom Crean's first five-star recruit to commit to the Hoosiers when he gave his pledge last Halloween.
The 6-foot-8, 210-pound Colombia native met with reporters after Indiana Elite's 80-73 loss to Dream Vision at last week's adidas Invitational to discuss a variety of topics.
Inside the Hall has a transcript of that lengthy Q & A session below:
Where's your game at this summer? What do you want to work on? What do you want to get better at?
I'm working on my shot, my dribble, all my post moves. My game is getting better. I've been taking my time, thinking about what I'm going to do, what move I'm going to make. I've been working the most on my jump shot because I know whenever I get to college I'm going to need it.
You hit that one turnaround in the second half. How good does that feel and is that an example of what you've been working on?
It feels good because I know there are some people that think I can't do anything else other than dunk. Having that in mind helps me to get better on my jump shot and get better on my post moves.
Looks like your free throws are coming along, too. Is that something you've been working on a lot?
Oh yeah. I have the ability to shoot free throws but I just think about it too much. I've been working on my mindset and everything, stuff like that. So I have been getting better with my shot.
Are you just going in the gym taking a lot of shots? Is that really what you're doing to work on your outside shot?
Yeah. I was taking summer school and during that period of summer school I was working out with my coach, my high school coach. We were working post moves, we were taking a lot of shots every day. So that helped me a lot.
What's your range and what would you like to get it out to? 15 feet?
I just want to be 15, 17, somewhere around that. Because I want to be able to attack the basket too. I want to learn how to play like that.
What has Tom Crean's message to you been for your summer ball season?
He just tells me to work hard and just keep getting better and not let anything bother me. Just keep getting better and don't worry about anything else.
Is it a little disappointing for you guys as a team, especially the Indiana commits, that you don't have Ron (Patterson) and Peter's (Jurkin) also hurt. I guess you kind of came into this thinking you were going to have five guys on this team. Is it disappointing not having those two guys?
Well I mean I know we're not going to be perfect. So we just need to play through everything so I'm OK with it. We just need to keep playing and keep getting better no matter what.
This game here you guys got out to a pretty big lead and then kind of let it slip away. What do you guys need to do to regroup?
We just need to take care of the ball and think about what we're going to do with the ball. Because we thought we were up, we thought we were going to win the game easily. We stopped playing and we stopped taking care of the ball.
You actually had four fouls pretty early. Is that something else you're trying to work on is to cut those down?
Yeah, that's the first time in the summer that I got foul fouls that fast. We were playing against pretty good players. I need to learn how to control myself against players like that.
Playing in this atmosphere when you have high profile coaches, high profile players, how fun is this? How pumped up do you get for something like this?
It's really fun. I come from a place where basketball is not big and coming here and having a lot of coaches and fans coming to watch us play and everything, that means a lot to me.
—
Check out Inside the Hall's video of Perea from the adidas Invitational in the embedded media players below:
Filed to: 2011 adidas Invitational, Hanner Perea