AAU coach believes sky is the limit for V.J. Beachem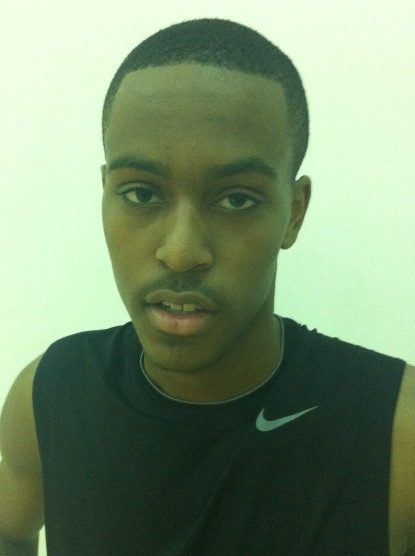 V.J. Beachem is practicing patience as his recruitment rolls along.
The 6-foot-7, 180-pound wing from the Fort Wayne area is among the top 50 players in the class of 2013 according to Rivals.com, but held just two scholarship offers as the first July evaluation period kicked off on Wednesday.
Matt Green, Beachem's coach with the Eric Gordon All-Stars, said that college coaches are waiting to see how Beachem's strength comes along this summer.
"He's improving physically," Green said after a pool play win at Northview Middle School. "Once he gets stronger, we all think that he has the most potential out of all of them (on the Eric Gordon 16-and-under team) to be the best."
Beachem is receptive to the feedback on the importance of improving his strength and is in the weight room three to four times a week this summer.
"It's tough. You guys probably can't tell I've been working at it, but I have been working at it," Beachem said with a smile.
Purdue was the first school to offer Beachem a scholarship and he added an offer from Butler earlier in the spring. Cincinnati, Indiana, Michigan, Michigan State, Notre Dame, Ohio State, Tennessee and Xavier are also recruiting him.
The Fort Wayne native said three of his Eric Gordon teammates — Collin Hartman, Basil Smotherman and Devin Davis Jr. — have mentioned the possibility of playing together at the next level.
"I talk to them (Hartman and Davis) about it a little bit, not a whole lot," he said. "Basil (Smotherman), on the other hand, says 'You going to Purdue?' just about every day I see him. Those guys, I talk to them a little about it. They talk to me about Coach Crean and about how they think I could fit in with them."
Indiana coaches, including Tom Crean, have been spotted at Beachem's games during the first few days of the evaluation period. He also heard from the staff on June 15, the first day college coaches could call class of 2013 prospects.
"I'm very interested in Indiana," Beachem said. "Obviously them and Purdue are the big dogs in the state of Indiana and Coach Crean is a great coach and it's a great program."
Ultimately Green believes that his talented junior-to-be has the potential to make a big impact when he arrives at a school in the fall of 2013.
"Pure shooter, you leave the kid open, he's going to stroke it," he said. "Once he can get it physically going and improve his ball handling, the sky's the limit for him."
—
Watch over two minutes of Beachem from last week's adidas Invitational in the embedded media player below. (Note: You can expand the video to full screen by using the arrows in the bottom right hand corner of the player.)
Filed to: 2011 adidas Invitational, V.J. Beachem