Recruitment status quo for five-star guard Harris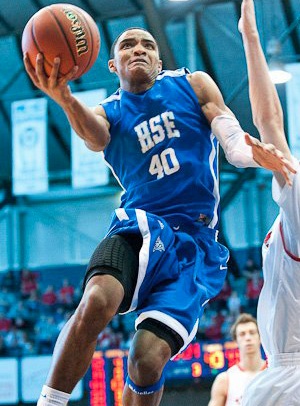 Despite a report that surfaced earlier this month at the NBPA Top 100 Camp, Hamilton Southeastern guard Gary Harris has not eliminated any schools from consideration in his recruitment.
"Those are the schools that are recruiting me the hardest right now," Harris said at the USSFA High School Shootout at Warren Central on Saturday afternoon. "All of my options are still open."
Those schools making the hardest push for the five-star guard are Indiana, Michigan State, Purdue, Louisville and Notre Dame.
But even as Harris prepares for the final July evaluation period of his prep career, a busy spring AAU and camp schedule have taken precedence over narrowing the focus of his recruiting picture.
"I'm not sure yet, I haven't had time to figure things out," he said. "I'm sure I'm going to get to some visits in the fall when I'm not as busy with all of this basketball stuff."
All of the basketball stuff Harris is referring to is an AAU schedule with D3 Pride, the Indiana Junior All-Stars, the NBPA Top 100 Camp and this week, the Kevin Durant Skills Academy in Chicago. (Note: Harris was measured at 6-foot-6 with shoes, 198 pounds without shoes and with a wingspan of 6-foot-7 at the Durant camp.)
The Hamilton Southeastern senior-to-be said his participation in the LeBron James Skills Academy last summer in Akron was a learning experience that is now paying dividends.
"I have a lot more confidence going into everything," Harris said. "Last year I had never done anything like that and I didn't really know what to expect. Now since I've been through it I know what to expect and have a different mentality going into it."
Harris was among the ten leading scorers at the NBPA Top 100 Camp this month with a scoring average of 12.4 points per game and his 10-foot jump shot lifted his Grizzlies team to the camp championship.
"It was a great camp. We got to learn from a lot of different NBA players, things to help out with my game," he said. "And we got to play against great competition. Every game was competitive. You were always going against somebody that was just as good as you. It helped guys compete and get better."
Once D3 Pride wraps up its July schedule, Harris will quickly transition to his senior season of football, where he'll play wide receiver and try to lead Hamilton Southeastern to a sectional title.
The Royals fell in the Class 5A sectional title game to Fishers last fall as Harris finished the season with 860 receiving yards and 14 touchdown receptions. The break from basketball that football provides helps Harris stay fresh mentally.
"It's good always to take time away," he said. "Some kids get burned out and that really doesn't happen to me because I have football to change things up. When basketball comes around, I'm ready to go."
(Photo credit: Jamie Owens of J. Scott Sports)
Filed to: Gary Harris