2013 Intro: Mark Williams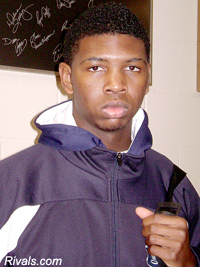 The Essentials: 6-foot-7, 235-pound forward for Cleveland Benedictine and TNBA Elite
The Schools: Indiana has offered and Akron, Central Michigan, Ohio State, Michigan State, Penn State, Wisconsin, West Virginia and Virginia Tech have expressed interest.
The Leaders: Indiana, with the scholarship offer to Williams last fall at Hoosier Hysteria, is considered to be one of the Ohio native's early favorites.
The Numbers: 13 points per game at Benedictine, which finished last season with a record of 12-11.
The Ranking: Rivals.com ranks Williams the 67th best prospect in the 2013 class.
The Quote: "The whole experience was great. The tradition speaks volumes. The fans were very involved and everybody loves basketball there. And that's my love so that place and me, we get along well. The players are cool. It just was a great night. There was a lot of energy in that building." — Williams to Inside the Hall after last fall's Hoosier Hysteria.
The Scout Says: "Mark's body has changed since his freshman year and he has become slimmer and taller. He has solid hands inside and is already a good rebounder and finisher in the paint. He has solid and improving skills. He can score in the low post and can step out to 17 feet and hit face up jumpers. Mark's a great rebounder. He's a solid defender in the paint. Solid athlete, good not great." – ESPN.com on Williams.
The Video:
Filed to: Mark Williams