Q & A: 2013 guard R.J. Curington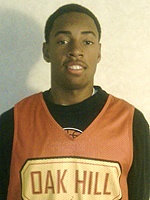 R.J. Curington spends the school year at Oak Hill Academy in Mouth of Wilson, Virginia, but the class of 2013 guard is an Indiana native. Curington is originally from Dyer and spends his time in Northwest Indiana when he has breaks from school.
Inside the Hall caught up with the 6-foot-5, 190 pound guard for a Q & A on Wednesday evening:
How would you describe your game on the court?
"I'm a combo guard who can shoot, pass, dribble and defend. I think the area I need to improve is just my overall point guard skills. I need to get better with the ball in my hands as a point guard."
What schools contacted you on June 15?
"Indiana, Purdue, Virginia, Wake Forest, Northwestern, Clemson, Stanford, Harvard, Miami, Illinois, North Carolina and Central Michigan."
What do you think of Indiana and Tom Crean?
"I like Coach Crean a lot. We talk a lot. I like IU's history and that they've had a lot of good players."
What are your thoughts on the other home state school, Purdue?
"Coach Painter comes to a lot of our games and practices at Oak Hill. Purdue has good fans, a nice gym and it's a good overall school."
Have you visited Indiana?
"Yes. They want me to visit again, either sometime before July starts, or right after it ends."
What are you looking for in a school?
"I'm looking for a school that can give me the most exposure, but also with great academics. I want a school with a great coach who cares about me and I feel comfortable with. I also want to play somewhere where I feel that I can win a National Championship at."
How could location affect your college decision?
"I'm just looking for the best fit for me, so I don't think distance will play too much of a role."
What are your favorite sports to play other than basketball?
"When I'm not playing basketball, I really like to play tennis and golf."
Scouting Notes:
— Scout.com from the Best Buy Classic:
Although we only go to see him once this weekend, Curington was certainly at his best. The 6-foot-4 guard scored at will during an 8 a.m. game, scoring 30 plus points for CIA Bounce. He hit a number of three-pointers and mixed in strong drives to the rim and finishes in transition. He appears to be improving and that's exactly what we are looking for in a 2013 prospect.
— ESPN.com:
Curington is a long and athletic wing that has a knack to score the ball. He can finish above the rim on the break when ahead of the transition defense or spot up for an open three and benefit from a teammates dribble penetration. In the half court Curington can hit the open jumper off the catch or dribble and has the ability to shoot over smaller defenders with his one or two dribble mid range rhythm pull up. Curington is a coachable player that loves to play the game and does a great of taking what the defense gives him. Curington has great upside and will only get better as he continues to develop in the Oak Hill program.
Filed to: R.J. Curington